Doulas & Midwives
Find a list of German-speaking midwives and doulas and those recommended by our community.
The New York Doula – Stephanie Heintzeler
Telephone: 347-257-5157
Website: www.thenewyorkdoula.com
Email: stephanie@thenewyorkbaby.com
Contact: Stephanie Heintzeler
Languages: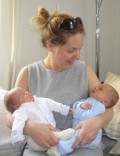 Stephanie Heintzeler Stephanie Heintzeler is a German-educated midwife and acupuncturist as well as a US-educated doula and Lactation Consultant (IBCLC). She was born in New York City but raised in Germany, where she (...)
Learn more

Sabina Grabow – Doula
420 Kent Ave, Brooklyn, NY 11249
Website: www.doulasabina.com
Email: info@doulasabina.com
Contact: Sabina Grabow
Languages: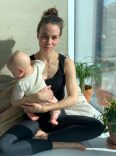 " As your doula, I am there for you during pregnancy to help you and your partner prepare for the birth experience you want. I stay by your side continuously in labor and birth providing emotional and physical (...)
Learn more

Print page


Did we miss
something?
If you know of a service or business that's not listed yet, let us know!
Send email


You want to be
listed?
If your business offers services that match the CityKinder community, learn your options.
Learn more