Curious who else is living in NYC? We are, too! We feature moms and dads from all walks of life with interesting stories, businesses, and family constellations. See who's in town, what they love about NYC, and why they stay.
Deutsche in New York während Corona: Andora Haustein – Heirat über FaceTime
June 11th 2020, 10pm
comments: 0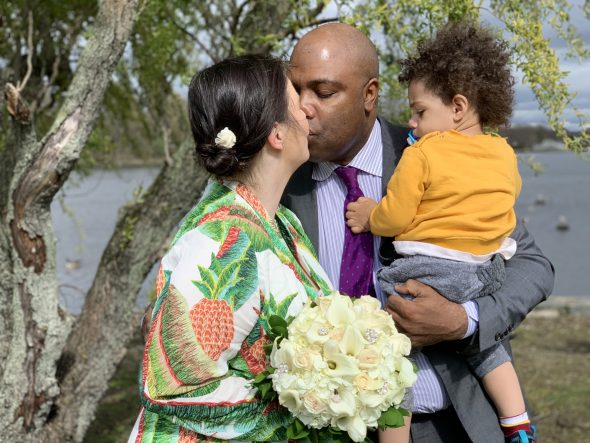 Liebe Andora!
Vielen Dank, dass du dir heute ein wenig für uns Zeit genommen hast. Wo befindest du dich denn gerade? 
Ich und meine kleine Familie leben in Larchmont seit 5 Jahren. Davor habe ich mit meiner großen Tochter zwischen Paris und New York gependelt.
Ich unterrichte deutsch seit einigen Jahren über das Internet und Telefon. Ich habe zwischendurch an einem College in Paris unterrichtet. Noch dazu helfe ich vielen Familien mit Kindern (Coaching, Babysitting,etc.) Und ich baue seit einigen Monaten mein eignes Unternehmen "Joy + Sein" auf.
Damit möchte ich vielen expatriierten Familien zu helfen, den perfekten Wohnort zu finden. Da wir hier in einem internationalen Umfeld leben, bekomme ich ständig Anfragen für Schulen, beste Wohnlage und administrative Probleme.
Berufliche Anrufe erledige ich meistens auf Spaziergängen mit meinen Babies (8 und 24 Monate) und dem Hund. Wir haben zum Glück das Meer und einen kleinen schönen Hafen. In der Zeit kann meine Tochter die in der 6.klasse ist, in Ruhe Schulaufgaben machen. Mein Mann erledigt seine Arbeit und kocht zu gleich.
Ansonsten ist es fast unmöglich für uns zu arbeiten. Meine kleine Tochter krabbelt durch die Wohnung und mein Sohn, der eben 2 Jahre wurde, leert mir den Kühlschrank aus. Dann muß ich ständig nachprüfen, ob meine große Tochter ihre Aufgaben macht und abgibt. Virtuell natürlich.Vieles von meiner Arbeit bleibt liegen bis alle im Bett sind.
Wie haben sich die Folgen von Covid 19 auf dein Leben ausgewirkt? (beruflich und privat) 
Folgen für uns als Familie: Mein Mann hat seinen Job in Brooklyn verloren.
2 Geburtstage unter Quarantäne: Mein Sohn wurde zwei und der Geburtstag von meinem Mann.
Mein Schwiegervater (in NJ) hatte ein Schlaganfall und andere Anfälle. Das Krankenhaus hat ihn 3 Mal nach Hause geschickt weil sie kein COVID 19 gefunden haben. Am Abend musste wir nochmals 911 anrufen und ich habe sie darauf hingewiesen, dass er einen Schlaganfall hat, damit er nicht wieder nach Hause geschickt wird. Zum Glück geht es ihm besser und er ist wieder zu Hause. Es fühlt sich an,  als ob sich die Welt nur noch um das Virus dreht.
Meine große Tochter hat ihren Onkel-Opa an COVID 19 verloren und ihr 1. Deutschland Schüleraustausch im Sommer fällt aus.
Was war die schwierigste Erfahrung für dich in den letzten Wochen? Und was war die inspirierendste und erhebendste?
Erfahrungen verbinde ich mit den Folgen. Wir mussten unsere lang geplante Hochzeit für Juni absagen, da es ungewiss war ob es überhaupt stattfinden könnte.
Trotzdem haben wir in einem Park in Stamford über FaceTime geheiratet. Liebe bleibt und es ist wichtig diesen Momenten zu haben. Natürlich waren wir traurig dass, ich mein Kleid nicht tragen konnte. Das Geschäft hat seit Ende März zu. Und es war sehr schade, dass keiner dabei sein konnte.
Wie erlebst du Gemeinschaft und soziale Verbundenheit in diesen Zeiten? Was sind die Lehren, die wir aus den Auswirkungen der Pandemie ziehen können? 
Meine Tochter ist jetzt im IEP Programm. Somit bekommt sie individuelle Hilfe und psychische Unterstützung, was ihr jetzt sehr viel hilft.  Ansonsten hat sich bei uns nicht viel verändert.
Welche Ratschläge hast du für Menschen, die zu Hause festsitzen? Kannst du etwas zum Lesen, Hören, Spielen oder Sehen empfehlen?
Ich wünschte ich hätte mehr Zeit. Ich würde unsere Wohnung aufräumen und säubern. Sachen verpacken die wir nicht mehr brauchen etc. Geht in die Natur und genießt es mit sozialen Abständen. In Westchester geht das oft.
Game nights. Monopoly, kochen für mehrere Tage. Movie Night mit Popcorn.
Workout classes online mit der ganzen Familie.
Make your days as normal as possible.
Leave us a comment!