420 Kent Ave, Brooklyn, NY 11249
Website: www.doulasabina.com
Email: info@doulasabina.com
Contact: Sabina Grabow
Languages: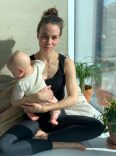 " As your doula, I am there for you during pregnancy to help you and your partner prepare for the birth experience you want. I stay by your side continuously in labor and birth providing emotional and physical support. I gave birth to two children. One without and one with the help of a doula, and having the support made such a difference for me. Therefore, I became a trained doula myself. I am a German registered nurse originally from Austria. Now I live between Brooklyn, New York and Neukölln, Berlin."
Feel free to contact me for any question under info@doulasabina.com.
Testimonials
No Reviews yet. Be the first one!

Want to become
a testimonial?
You loved the event, service or product? Like to recommend it? Just send us your review.
Write review


Service Listing
missing?
If you know a great service provider that is not listed yet, let us know!
Send us a mail