Telephone: 347-257-5157
Website: www.thenewyorkdoula.com
Email: stephanie@thenewyorkbaby.com
Contact: Stephanie Heintzeler
Languages:


Stephanie Heintzeler
Founder of "The New York Baby"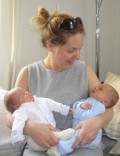 Stephanie Heintzeler is a German-educated midwife and acupuncturist as well as a US-educated doula and Lactation Consultant (IBCLC). She was born in New York City but raised in Germany, where she found her enthusiasm for midwifery already when she was 12 years old- thanks to her "not-so-little-anymore" brother who was born then. She became a midwife at the midwifery school Black Forest in 2000 and worked in Frankfurt for several years after as well as in Munich.
Stephanie cares for women with all kinds of births- whether her clients choose a hospital birth, birthing center, or home birth; she wants them to follow their own intuition about which birthplace feels best. Stephanie has seen it all natural and epidural births, breech births, many successful VBACs (Vaginal Birth after Cesarean), planned and unplanned c-sections, vaginal twin births, and LGBTQ families.
With her "European midwife approach" her clients feel taken care of from a holistic-medical perspective. She uses breathing techniques, TENS, and positions to open the pelvis as well as her acupuncture background and massage techniques to make birthing as comfortable as possible- whether it is a natural or medicated birth. Using evidence-birth-techniques she and her doula partner Alice (who is a midwife from the UK) make sure their clients have continuous support during pregnancy, birth, and the postpartum weeks.
As of 2023 Stephanie has delivered about 2,500 babies and attended over 3,300 births. She is the founder of the New York Baby where she puts expecting parents/mothers in touch with birth and postpartum doulas, night nannies, and baby nurses.
FAQ's
Can we meet before hiring our doula?
Yes, all doulas offer a complimentary meeting via Zoom.
What is the cost for the doulas?
Every doula has a different rate based on her experience and certifications. Inquire here for rates and packages.
How about reimbursement by my health insurance?
Birth support by a doula usually doesn't get reimbursed by US health insurance unless you work for a company that pays for it (e.g. LinkedIn). If you happen to have European health insurance it might be possible to get reimbursed for Stephanie since she is a German midwife. Lactation Consultants usually get paid by US health insurance – you'd receive a super-bill after the home visit to seek reimbursement.
Are you offering lactation consultation?
Yes, Stephanie is an IBCLC (International Board Certified Lactation Consultant). More information on in-home consultations can he found here.
What happens if my doula is with another client when I go in labor?
While this rarely happens every doula has a team of colleagues who are backing her up. Since we never know if the main backup is at birth when she is needed we all have several back-ups to choose from (usually within our NY Doula team).
Are doulas insisting on breastfeeding?
Certainly not! While breastfeeding is generally best for you and your baby there might be situations where supplementing or bottle-feeding makes sense. Lactation Consultants can guide you throughout the decision-process on how to feed your little one.
Email us at stephanie@thenewyorkbaby.com to get all rates.
Testimonials
"I suffered from severe anxiety during pregnancy mostly about giving birth. I knew I wanted a doula to help coach me through child birth. But I struggled to find a doula that was understanding of my fears and supportive of my birth plan (an epidural) without being judgmental. When I met Stephanie I knew right away she was the doula that I wanted to help coach me through the rest of my pregnancy and child birth. I can honestly say I couldn't have delivered my baby as calmly as I did without Stephanie's help, support and knowledge. She helped keep me focused and calm in the months leading up to birth and gave me plenty of advice and recommendations. She worked closely with my husband to make sure I was prepared when the big day finally arrived. On the day of my little boys birth, Stephanie arrived at our apartment and coached me through early labour along with my husband before taking us to hospital. She helped make everything easier for me, from the massage, calming essential oils and most importantly helping me find a comfortable position to push! Stephanie was great at relaying my fears to the doctors and nurses, explaining things step by step to my husband and I and making sure we had everything we needed. Stephanie made my birth experience a truly incredible one. I felt like I had an old friend there at my birth to help me though. Thanks to Stephanie I actually look forward to my next baby's delivery ( I would never have thought that possible) and I can't wait to have her at my side again for baby #2. I could not recommend her highly enough."Beth Kent (Mom of 1)
"Working with Stephanie was a wonderful experience. It was important to us to have a childbirth expert on our side since we wanted to avoid interventions that might not be necessary. We needed interventions in the end due to the fact that my water broke and I didn't have any contractions. But we had Stephanie as a resource to discuss options. After having an induction Stephanie joined us once contractions started. She helped me breathe and stay focused while so much was going on around me. She explained every procedure and knew in advance what was going to happen. My daughter was not small so it took a while until she was born. Stephanie kept me upbeat and positive when we were on the verge of a c-section. And after 4 hours of pushing little Valerie was born vaginally. They kept her at the NICU for a few days where Stephanie visited us a few times and then later at home. It was very reassuring to have her with us throughout the whole process. - Isabel"Gabi

Want to become
a testimonial?
You loved the event, service or product? Like to recommend it? Just send us your review.
Write review


Service Listing
missing?
If you know a great service provider that is not listed yet, let us know!
Send us a mail