Lawyers - General
Find a list of German-speaking general law practitioners and those recommended by our community.
Rowland & Petroff
2 Park Avenue
New York, 10016, New York
Telephone: (212) 685 5509
Website: www.rowlandlaw.com
Email: info@rowlandlaw.com
Contact: David J. Rowland
Languages: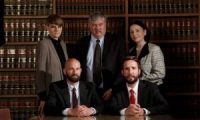 Rowland & Petroff specializes in the areas of German citizenship matters, international business transactions, real estate, wills, trusts and estates, as well as Nazi-era art recovery. Based in New York, Rowland (...)
Learn more

Protected: Mazloumi Law Firm
175 East Shore Road
Great Neck, NY 11023
Telephone: (646) 281-5040
Website: www.mazloumi.com
Email: Abraham@Mazloumi.com
Contact: Abraham Mazloumi
Languages:


Harris Beach PLLC – Barbara R.H. James
Telephone: (585) 419-8618
Print page


Did we miss
anything?
Suggest a service or business that's not listed yet!
Send email


You want to be
listed?
You offer services or products of interest for the German-speaking families in NYC?
Submit your listing