Print page

Clown Jimmy
Email: s.geronimo@hotmail.de
Contact: Simon Fuetterer
Languages: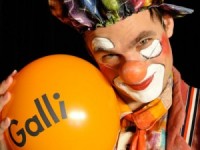 Clown Jimmy brings fun and entertainment to small and large audiences. His funny music show and his "tricky" magic tricks is a delight for kids and adults alike. He is a clown who performs alongside the children on stage,...
Learn more
Print page


Service Listing
missing?
If you know a great service provider that is not listed yet, let us know!
Send us a mail


You want to be
listed?
If your business offers services that match the CityKinder community, learn your options.
Learn more