Follow our CityErleben blog to get periodic updates on the best activities with or without your kids like museums, playgrounds, festivals, free programs, day trips and weekend excursions. Get the best out of NYC tested by fellow CityKinder Moms & Dads and our contributors.
New York Für Dich: Schauen, Schlemmen und Schlittschuhlaufen – Brookfield Place
December 23rd 2018, 7am
comments: 0
Brookfield Place ist erstmal eine hochglanzpolierte Mall im Süden Manhattans. Was ist so anders hier? Steht man auf der Empore im ersten Stock, fällt auf: Die Menschenmengen sind weniger in den Etagen bei den Geschäften zu finden. Vielmehr tummeln sich Menschen jeden Alters auf dem artriumgestalteten Gelände, das mit seinen bogenförmigen Treppen an einen zentralen Dorfplatz am Mittelmeer erinnert.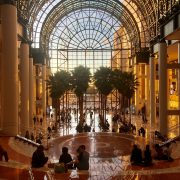 Aha, man kommt offensichtlich her wegen des Treibens, der Atmosphäre, der Architektur und vor allem – wegen des atemberaubenden Blicks durch die bodenhohen Fenster. Vorbei an der angrenzenden Schlittschuhbahn geht der Blick über den Hudson River direkt nach New Jersey. Von der Ostseite des Atriums schaut ihr direct auf das One World Center. Diese Kombination lädt zum entspannten Abhängen und Sitzen auf den Treppen oder Bänken ein. Genial für einen Familiennachmittag, bei dem man viele Ideen und Wünsche unter einen Hut bringen kann, shoppen, einkehren, Zeit verbringen – und Schlittschuhlaufen.
Die Eisbahn
Die Szenerie der Eisbahn ist einmalig. Ein nicht allzugroßer Icerink, direkt am Hudson River. Gerade nachmittags tummeln sich viele Eissternchen und versuchen unter der Anleitung von Eltern und mit Hilfe von "Eisbären" ihre ersten Eisschritte. Eltern älterer Kinder nutzen die Gunst der Stunde und schauen ihren Sprösslingen bei einem Kaffee hinter den riesigen Fensterfronten zu und genießen dabei die Aussicht. Im Vergleich zur Eisbahn am Bryant Park und am Rockefeller Center ist die Warteschlange sehr kurz. Ein Warteraum gibt euch die Möglichkeit, Schlittschuhe aus- und anzuziehen.
Öffnungszeiten (von November bis April) sind Mon – Fri: 13:00 – 22:00, samstags: 9:00- 22:00, sonntags: 9:00 bis 18:00. 90 Minuten Schlittschuhlaufen kosten $15 plus $5 fürs Ausleihen.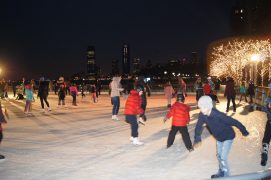 Luminaries
Von November bis zum 4.Januar 2019 findet halbstündlich eine farbenfrohe Lichtershow statt. Unendlich viele quadratisch geformte Lampen wechseln ihre Farben und leuchten in abstrakten Figuren. Von der Seite betrachtet sieht die Lichtinstallation aus wie eine Welle, die durch die große Halle brandet. Von unten sieht man einen Himmel mit quadratischen Monstersternen. Die Lampen üben so ihre eigene Fazination auf die Besucher aus.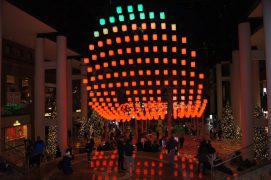 Essen
Fast Food ist in dieser Mall verpönt, stattdessen laden 2 liebevoll gestaltete Foodcourts die verschiedenen Kunden ein: Im ersten Stock seid ihr mit der ganzen Familie richtig. Im Stile einer Fabriketage bietet dieser Foodcourt hochwertiges Essen aus aller Welt. Speziell sind die Fensterplätze mit toller Aussicht auf den Hudson. Für den hippen New Yorker bietet sich das Erdgeschss an: In Form einer europäischen Markthalle werden hier an verschiedenen Ständen kulinarisch liebevoll angerichtete Köstlichkeiten feilgeboten. Ein gemütlicher Platz für ein Gläschen Wein in schummriger Atmosphäre.
Anreise
230 Vesey St, New York, NY 10281.
Das Center ist gegenüber vom One-World Tower und verkehrsgünstig gelegen. Bei schlechtem Wetter könnt ihr unterirdisch vom Fulton Center zum Bahnhof am World Trade Center (Oculus) laufen und direkt weiter zur Mall Brookfield Place.
Vielen Dank an Isa und Thomas von "New York Für Dich" für diesen tollen Tip.
Diesen und noch viele andere Tipps bekommt ihr in unserer App "New York für Dich", die App für den zweiten Blick, kostenlos im App Store zum downloaden.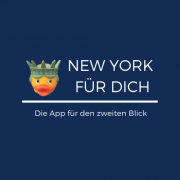 Leave us a comment!