Website: margit-haag.at
Email: hallo@margit-haag.at
Contact: Margit Haag
Languages: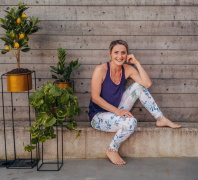 Mama zu werden, oder frischgebackene Mama zu sein ist doch herrlich, oder?
Wären da nicht das ein oder andere kleinen Problemchen mit dem Beckenboden. Beim Spazieren gehen, verirren sich ein paar Tröpfchen in die Hose. Ein Schwere- oder sogar Fremdkörpergefühl im Beckenboden, so als würde dir ein vollgesogener Tampon rausrutschen. Und eine totale Instabilität, so, dass du das Gefühl hast du wirst nie wieder springen oder hüpfen können in deinem Leben.
Kommt dir da etwas bekannt vor?
Es geht mehr Frauen so, als du denkst. Doch die wenigsten sprechen über ihre alltäglichen Erfahrungen als Mama. Als Physiotherapeutin und 2-fach Mama weiß ich ganz genau wie es sich anfühlt mit diesen Problemen zu hadern. Ich weiß auch, wie du es wieder hinbekommst. Pfeifen wir doch auf die ganzen Tabus und sprechen über die wirklich spannenden Dinge, die sonst jeder vermeidet.
Heutzutage muss ein Rückbildungskurs mit all seinen emotionalen Herausforderungen und körperlichen Veränderungen einfach und flexibel umsetzbar sein. Denn ein Alltag einer Mama ist ohnehin stressig genug.
Mittlerweile kann ich aus vielen Jahren Praxis- und Eigenerfahrung und ganz viel evidenzbasiertem Wissen sprechen. Ich zeige dir ganz klar und genau den Weg durch deine Schwangerschaft und deiner persönlichen, zielgerichteten aber vor allem individuellen Rückbildung in meiner Begleitung.
Testimonials
"Ein toller Kurs! Margit schafft es remote einem das Gefühl zu vermitteln, als hätte man seinen persönlichen Rückbildungs-Coach im Alltag immer dabei. Margit's Know How, gepaart mit effektiven Methoden und richtig viel Sympathie, haben meinen Beckenboden nach der Geburt meines 3. Kindes in Florida wieder fit gemacht. 100% Weiterempfehlung, es geht nicht besser und nicht individueller! Und man kann mit ihr über so wichtige Fakten "da unten" sprechen, die kein Amerikaner so beim Namen nennen würde."Julia

Want to become
a testimonial?
You loved the event, service or product? Like to recommend it? Just send us your review.
Write review


Service Listing
missing?
If you know a great service provider that is not listed yet, let us know!
Send us a mail