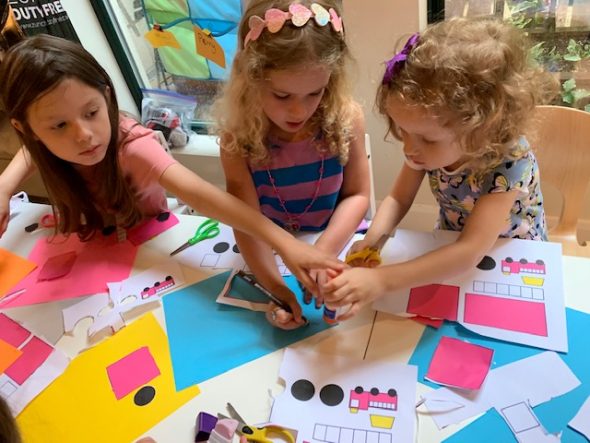 Rella's Spielhaus Summer Course 
Rella's Spielhaus is providing your child with the perfect Manhattan Summer Camp experience – in German! We offer a stimulating German language camp involving lots of learning while filled with music, arts-and-crafts and many hours a day outside time at Central Park. We provide inspiring activities for every kind of learner. Your child will make amazing progress and have a great time with lots of time outside at the same time!
Rella's 2021 Summer Camps will be held "in person" at 50 West 97th Street!

We teach Summer Camp in 3 classrooms for kids 1-2yrs, 2-5yrs and 6-12yrs of age

June 28th – September 3rd, 2021
Daily schedule: 9am – 3pm
After Care: Daily 3pm – 6pm ($150/week, bookable weekly)
Regular Price $675/week
Weeks can be booked individually / 5% discount for 4 week bookings
5% sibling discount
We provide snacks (am and pm), the parents provide lunch, water bottle, bathing suit and towel
Early Bird Discount: $595/week, available until 03/31/21
Rella's Summer Courses are designed to capture every child no matter what age (4-12yrs) or proficiency (total beginner to native speaker). This is possible because the classes are small (12 kids – 2 instructors) and we offer an attractive and captivating program for every learner: We read our aloud (auditory), write (visual, interpersonal), sing (auditory- musical) dance (kinesthetic), investigate (logical), and do arts and crafts (intrapersonal).
It is astounding even for the teachers to witness the massive progress the children make.
Please e-Mail us for further questions: willkommen@rellasspielhaus.com
Merken
Merken
Merken
Merken
Merken
Picture Gallery
(7)

About Barbara Rellstab:
Barbara was born and raised in Zurich, Switzerland. Growing up in a theater family sparked her interest for the performing arts early on and she decided to follow the footsteps of her late father. After 5 years as actor/singer on German and Swiss Stages Barbara came to New York in 1997. She performed extensively Off-Boradway (lead role in "The Donkey Show"), founded the International Department at the Internationa Fringe Theater Festival (fringenyc.org), and taught voice and Gyrotonic.
When her son Oliver was born in 2009, Barbara sensed the need for a "Mommy and Me" story time format in German. And in 2010, "Lieder & Geschichten" (today's Kinderklassen) was born, first as pic-nic in Central Park, then at the Harlem Library and soon in Studios from Brooklyn to White Plains.
Today, the Kinderklassen serve more than 50 families each semester. Together with  Rella's Spielhaus Manhattan's First German Language Immersion Day Care) with 15 enrolled children, the Summer Intensives that are in their 3rd year, and last but not least the meet up group with 250 members, the Rella's Brand has grown every year. The Rella's team is deeply committed to the Manhattan German Language Community and proud to offer a first rate service to all our children.
Testimonials
No Reviews yet. Be the first one!

Want to become
a testimonial?
You loved the event, service or product? Like to recommend it? Just send us your review.
Write review


Planning your
own event
If you have a great party or event idea for the CityKinder community, let us know!
Send us a mail