For Parents
Online Course: Das New Yorker Schulsystem verstehen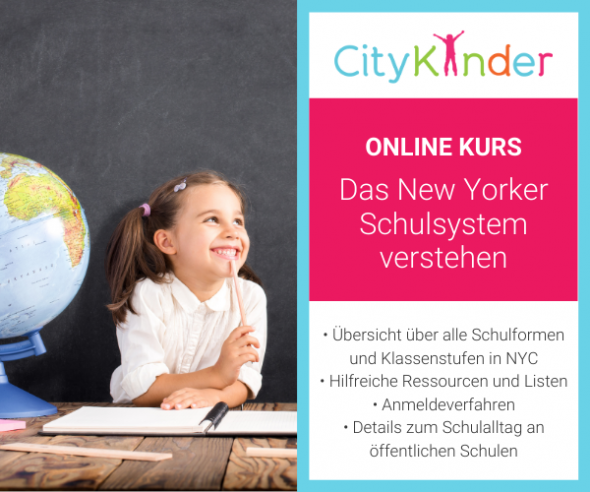 Du ziehst demnächst nach New York und hast keine Ahnung wo du mit der Schulsuche für dein Kind anfangen sollst? Dann bist du bei uns genau richtig. In drei ausführlichen Modulen erfährst du alles, was du für die Auswahl der richtigen Schule wissen musst!
Wir bereiten dich von der Krippe zur Middle School auf alles vor, damit du für jede Situation gewappnet bist.
Was dich im Kurs erwartet:
Übersicht über alle Schulformen und Klassenstufen in NYC
Hilfreiche Ressourcen und Listen
Anmeldeverfahren
Details zum Schulalltag an öffentlichen Schulen
Bonus PDF: Das New Yorker Schulsystem und Corona (wird je nach Anlass upgedated)
Also buche jetzt deinen Platz im Online Kurs Das New Yorker Schulsystem verstehen!
Deine Vorteile:
Spare Dir Zeit und Nerven mit den folgenden Downloads:
Zugang zu wichtigen Ressourcen und Listen
Arbeitsblätter um Dir bei der Entscheidung zu helfen
Bonus eBook: Deutsche Schulen und Kindergärten in NYC
Deine Investition:
$47 (life-time access)
Limited Launch Offer:
$37 mit code CITYKINDER
Testimonials
No Reviews yet. Be the first one!

Want to become
a testimonial?
You loved the event, service or product? Like to recommend it? Just send us your review.
Write review


Planning your
own event
If you have a great party or event idea for the CityKinder community, let us know!
Send us a mail