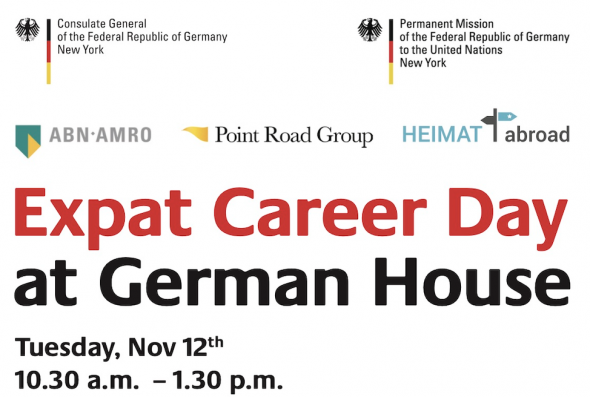 Need support with specific personal branding and career challenges at the American job market? Three experienced speakers will give advice on self-employment, how to write a perfect CV and how to present yourself during a job interview.
Speakers:
Simone Betz, ABN AMRO Bank N.V.
Gabi Hegan, HEIMAT abroad | CityKinder
Nicole Isenhour, Point Road Group
Simone Betz has held the role of Chief Human Resources Officer for the US at ABN AMRO for the last ten years. ABN AMRO is a Dutch corporate bank with its US headquarters in New York City. In this capacity she is responsible for defining and executing all elements of the People Strategy, including Talent Acquisition and Retention and Strategic Workforce Planning.
Prior to this Simone was VP of HR for HSH Nordbank, a niche investment bank, during which time she was responsible for a talent upgrade initiative resulting in significant headcount increases. Simone spent the first ten years of her career in various roles at Deutsche Bank, a German bulge bracket bank, both in the US as well as in Frankfurt. During that time, among other things, Simone was responsible for the International Expat Program between the Amer- icas and Germany. Within this program she devised the intercultural training curriculum that was to become a pre requisite for expats prior to start of their assignment starts..
Simone is originally from Worms, Germany and relocated to the US at the age of 6. She gradu- ated from the State University of New York at Plattsburg with a Bachelor in International Busi- ness and recently completed the Human Resources Executive Education Program at Harvard University.
Gabi Hegan was born in Munich, Germany and moved to New York City in 1999 on a whim. After a successful career in the international hotel industry, she decided to start her own company.
She is the founder of two online platforms: Heimatabroad.com and CityKinder.com. In 2017 she added annual ICH BIN EXPAT FAIR in New York and in 2018 the quarterly print magazine HEIMAT abroad to her portfolio.
As a small business owner she always focussed of working "around" her daughter and offering the same opportunities for her team of mostly Moms. She is excited to share her experience with everyone who's considering to take the plunge to follow her passion by starting her own business or freelancer.
Nicole Isenhour is a Career Consultant at Point Road Group, a global personal branding and consulting firm that helps executives and companies make powerful impressions to achieve their goals. Nicole works with individual clients as well as organizations where she conducts presentations and lead workshops on a variety of career advancement topics.
Prior to joining Point Road Group, Nicole was a Senior Assistant Director and Manager of Employer Relations at New York University's Wasserman Center for Career Development, where she provided customized support to alumni, students and employers.
She has also worked in career development at Emerson College, Brandeis University and Northeastern University, where she developed the curriculum and facilitated a first-year student Intro to College course.
Nicole earned a Master of Science in College Student Development & Counseling at Northeast- ern University and a Bachelor of Science in Communications from Syracuse University.
Testimonials
No Reviews yet. Be the first one!

Want to become
a testimonial?
You loved the event, service or product? Like to recommend it? Just send us your review.
Write review


Planning your
own event
If you have a great party or event idea for the CityKinder community, let us know!
Send us a mail