For Parents
Webinar: Das New Yorker Schulsystem – ein Buch mit 7 Siegeln?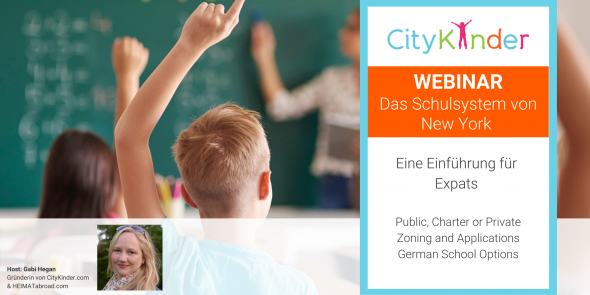 Das Schulsystem von New York is schon für die meisten Amerikaner eine Herausforderung mit seiner Vielzahl an Schulangeboten und ständig neuen Regelungen…
Besonders für Expats und Einwanderer, stellen sich viele Fragen, die man nur schwer online beantwortet bekommt. Man kann sich schnell allein und damit überfordert fühlen eine der wichtigsten Entscheidungen für sein Kind zu treffen, wenn man sich nicht wirklich auskennt.
Dem wollen wir Abhilfe verschaffen!
Unser Webinar gibt dir einen guten Überblick über das Schulsystem und die wichtigsten Punkte, die du bei der Schulauswahl beachten solltet. Was besprechen wir genau?
Überblick über das System
Die Schultypen in den USA (Public, Private and Charter Schools)
Bewerbungsverfahren (Admissions)
Schulzonen und Bezirke (Zones and Districts)
Überblick über spezielle Program an Public Schools (Dual Language Program, Gifted & Talented, Special Needs)
Gebühr: $10 
++++++
Online Kurs: Das Schulsystem von New York verstehen 
Wenn Du gerne tiefer in das Thema einsteigen möchtest, dann kannst du unseren Online Kurs "Das New Yorker Schulsystem verstehen" buchen, was dir eine Menge Zeit und Haare raufen ersparen kann. In 4 Modulen, gespickt mit Arbeitsblättern, Links und Tipps bekommst Du einen tiefen Ein- und Überblick, über das System, die Optionen (Deutsch und English) sowie den Schulalltag der Kinder, um die besten Entscheidung für dein Kind und dein Budget zu fällen.
Einmalige Gebühr: $ 47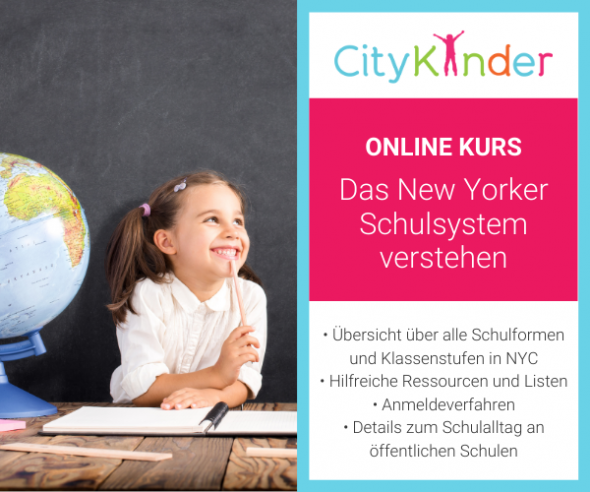 Testimonials
No Reviews yet. Be the first one!

Want to become
a testimonial?
You loved the event, service or product? Like to recommend it? Just send us your review.
Write review


Planning your
own event
If you have a great party or event idea for the CityKinder community, let us know!
Send us a mail