For Parents
Kinderbetreuung in den USA: Nanny, DayCare oder Au Pair?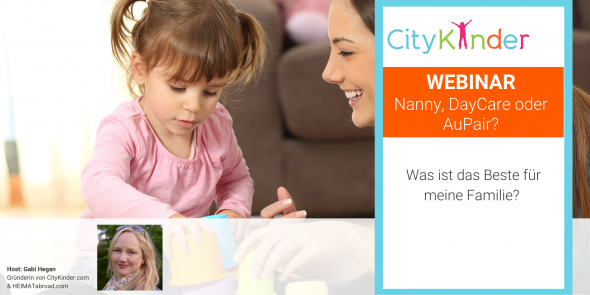 Lunch & Learn: Kinderbetreuung in den USA: Nanny, DayCare oder Au Pair?
Wenn du auf der Suche nach den besten Kinderbetreuungsangeboten bist, egal ob Vollzeit oder nur ein paar Stunden pro Woche, solltest du unbedingt an diesem Webinar teilnehmen. Hier erfährst du alles, was du zum Thema DayCare, Nanny, AuPair und Babysitter wissen musst.
Dieses Seminar ist besonders hilfreich für internationale und frischgebackene Eltern, die sich über die verschiedenen Möglichkeiten informieren möchten.
Was wirst du lernen?
Nanny & Babysitter
Tipps wie man die richtige Nanny oder den richtigen Babysitter findet und einstellt
Ist Nanny-Share eine Option für mich?
Interviewprozess – was soll ich fragen?
Welche Bezahlung ist angemessen?
Arbeitgeber werden (Einstellung, Urlaub, Arbeitsrecht usw.)
Überblick über Online-Dienste, Agenturen und andere Möglichkeiten, Ihren Betreuer zu finden
Tipps zur Suche nach deutschsprachiger Kinderbetreuung
DayCare (Kita)
Wichtige Kriterien bei der DayCare Auswahl
Betreuerschlüssel
DayCare, GroupHome DayCare, Preschool – was sind die Unterschiede?
AuPair
Überblick über das AuPair Programm
Wer darf Au Pairs anstellen (Spoiler Alert – nicht jeder…)
Au Pair Program Anbieter
Weiterhin bekommst Du:
Eine Liste von Fragen, die du in einem Interview stellen solltest
Ein Mustervertrag für die Anstellung einer Nanny oder eines Babysitters
Eine Liste von Websiten und Dienstleistungen, um die perfekte Kinderbetreuung für deine Familie zu finden
Testimonials
No Reviews yet. Be the first one!

Want to become
a testimonial?
You loved the event, service or product? Like to recommend it? Just send us your review.
Write review


Planning your
own event
If you have a great party or event idea for the CityKinder community, let us know!
Send us a mail