Follow our CityErleben blog to get periodic updates on the best activities with or without your kids like museums, playgrounds, festivals, free programs, day trips and weekend excursions. Get the best out of NYC tested by fellow CityKinder Moms & Dads and our contributors.
Washington's Headquarter – Morristown
June 11th 2014, 9pm
comments: 0
Nicht weit vom Morristown, NJ Stadtkern gelegen befindet sich das Washington's Headquarter. Auf dem Highway haben wir das Schild, welches die Ausfahrt markiert, schon oft gesehen und ein Besuch stand schon lange auf der To Do Liste.
"The Washington´s Headquarters Museum", das sich auf dem Gelände befindet, gehört zum Morristown National Historic Park. Es zeigt hauptsächlich militärische Ausstellungsstücke wie beispielsweise Uniformen, Musketen, aber auch chirurgische Werkzeuge und Kostemikartikel der damaligen Zeit.
Das Museum führt außerdem einen Film vor (Dauer ca. 30 Minuten), der sehr interessant ist. Er handelt vom harten und sehr kalten Winter im Jahre 1780, in dem General George Washington Morristown als Überwinterungsziel ausgesucht hatte (der Film ist in englischer Sprache).
An die 10.000 Soldaten litten an Hunger und Kälte. Sie bauten daher Hütten für jeweils ca. 12 Personen, um sich vor der Kälte zu schützen. Ohne ihr Wissen entstand so die fünftgrößte Stadt der USA zu dieser Zeit.
Heute kann man einige dieser Hütten noch besichtigen – sie sind noch in ganz guter Verfassung. Sie sind allerdings nicht auf dem Gelände des Museums gelegen, sondern befinden sich ca. 4 Meilen weiter, in Jockey Hollow.
Die Mitarbeiter des Jockey Hollow Information Centers waren sehr erstaunt, als ich nach einer geführten Tour auf den Wanderwegen gefragt habe. Es war nämlich ein ziemlich heißer Tag und sie schlugen statt dessen vor, einfach mit dem Auto durch den Park zu fahren (ich war die einzige Besucherin an diesem Wochentag). Ami-style eben.
Der Jockey Hollow Park ist eine wunderschöne Waldlandschaft, auf dem sich ebenfalls die Wick Farm mit einem grossen Garten befindet.  Die Wanderwege sind wirklich sehr schön – von den angekündigten Hütten sieht man allerdings nur etwas aus der Ferne – man kann nicht rein und kommt auch nicht wirklich nah ran.
Hier sind noch die Adressen (eine Anfahrt ist nur mit dem Auto möglich, da die öffentlichen Verkehrsmittel in Morristown diese Stationen nicht anfahren)
Washington's Headquarter und Museum
Address: 30 Washington Place, Morristown, NJ 07960
Phone Number: 973-539-2016 ext.210
Hours: September -June: 9:30 a.m. to 5 p.m., Wednesday-Sunday, Closed Thanksgiving, Christmas and
New Year's Day
Summer hours: 7 days a week, 9:30 a.m – 5:00 p.m
Jockey Hollow Visitor Center
Address: 580 Tempe Wick Road, Morristown, NJ 07960 (approximately)
Phone Number: 973-543-4030
Jockey Hollow Encampment Area
(gleiche Adresse wie das Visitor Center)
EINTRITT IST FREI!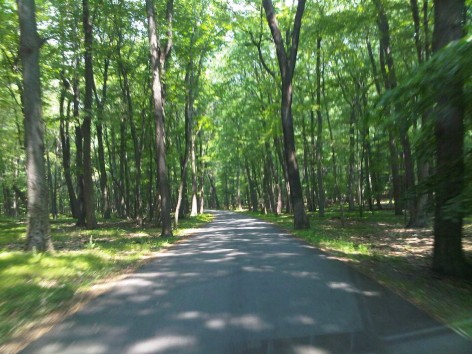 Merken
Leave us a comment!