14 Harwood Court, 317
Scarsdale, NY 10583
Telephone: (917) 7834420
Website: www.aekertrothsteinphd.com
Email: aekert_nyc@fastmail.fm
Contact: Anne-Britt Ekert Rothstein, Ph.D.
Languages:

We are also located at:
415 Central Park West
Suite 1 EL
New York, NY 10025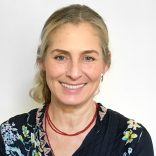 I am originally from southern Germany and came to New York in the 1990s. Given my own immigration experience -having navigated making a life in New York, pursuing undergraduate and graduate degrees- I have a deep understanding of what this experience is like. As a now long-time resident of the US with strong cultural ties to Europe, I appreciate what it takes to integrate different cultural sensitivities. My own experiences have naturally informed and shaped my thinking as a psychologist. I have a passion for working with families who are finding their feet in the US, be it for just a few years as an expat or transitioning into becoming a long-term resident. I work with children & parents, teens as well as adults of all ages. I bring to the therapeutic process a focused presence, a sense of humor, and a strong belief that growth emerges from insight and self-knowledge. My approach is psychodynamically informed and I implement cognitive-behavioral techniques as appropriate. My clinical style is interactive, collaborative, warm and respectful. I have offices in Hartsdale, Westchester, NY, and on the UWS of Manhattan. . In January of 2020 I became the consulting psychologist at the German International School in White Plains, New York, K through 12 grades. However, in response to the Corona Virus, I am now exclusively working with clients remotely. I have utilized telemental health for some time and am experienced in this modality and able to provide effective, secure and HIPPA compliant telehealth services.
Ich freue mich darauf von Ihnen zu hὂren!
Potty and sleep troubles, difficulties with separations, adjusting to moves, behavior issues, school, and social difficulties. I either work with the parent(s) in parent guidance or with the child in play therapy or a combination of both, dependent on the family needs.
Issues around independence, identity, sexuality, social concerns, and relationships, as well as mood and anxiety symptoms. I work with teens in a problem-focused manner, either one-on-one or with additional family and/or parent sessions when indicated.
Issues including anxiety, depression, career development, marital and family problems, adjusting to life changes, difficult relationships, divorce, stress, as well as physical health-related concerns.
Clinical Specialties
Anxiety – Coping with excessive worry, nervousness, or stress; intense discomfort in social settings (social anxiety); sudden and intense feelings of panic (panic disorder)
Depression – Providing support and promoting healing of hopelessness, low motivation and energy, sadness, irritability, sleep disturbance, and loss of interest and pleasure in life
Divorce & separation – Questioning or feeling unsatisfied in your relationship; contemplation and navigation of separation; addressing issues of power, voice, and communication challenges
Life transitions – Coping with difficult or impactful life changes, such as moving to a new area, relationship transitions, child rearing, or career changes; learning self-care to better manage resulting stress
Relationships – Understanding one's wants and needs in relationships; exploring patterns of interaction, addressing concerns, and strengthening satisfaction in relationships and dating
Parenting – Helping parents develop and implement strategies to address challenges that arise throughout childrearing; managing stress and increasing support
Work stress – Managing overwhelming stress and expectations; increasing effective ways of restoring and maintaining emotional stability and health; addressing challenging relationships with coworkers and bosses.
Testimonials
No Reviews yet. Be the first one!

Want to become
a testimonial?
You loved the event, service or product? Like to recommend it? Just send us your review.
Write review


Service Listing
missing?
If you know a great service provider that is not listed yet, let us know!
Send us a mail