50 Partridge Rd
White Plains, NY 10605
Telephone: 914-948-6513
Website: www.gisny.org
Email: office@gisny.org
Contact: Mr. Ulrich Weghoff, Head of School
Languages: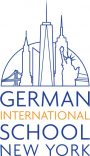 German International School New York welcomes families of every background with an interest in German language and culture into our vibrant bilingual, multicultural Pre-Kindergarten through Grade 12 co-ed independent day school in the heart of Westchester County. Located just twenty-five miles north of NYC, GIS's environmentally friendly campus sits on several lush acres of a quiet residential neighborhood, easily accessible from the Hutchinson River Parkway, I-287 and I-95.
Since 1980, the strength of GIS's challenging bilingual college preparatory curriculum and diversity of our international community have nurtured and inspired inquisitive, open-minded, independent thinkers and developed socially responsible global citizens. Students benefit from bright, spacious, story-book like classrooms led by highly qualified faculty, over 90% of whom hold an advanced degree.
Leading research shows us that bilinguals enjoy life-long benefits. Not only do bilingual children outperform their monolingual peers academically (for instance, bilinguals score higher on math and science exams than monolinguals), bilingual children experience fewer negative behaviors, like arguing and fighting, and the brains of bilinguals are more resistant to the onset of neurological diseases later in life.
At GIS, our focus on bilingual fluency begins in our Pre-Kindergarten and Kindergarten programs with the introduction of our one-teacher, one-language teaching method in German and English. This emphasis on German and English fluency continues throughout a student's GIS career and later grows with the addition of French (requirement) and Latin and Spanish (electives) in the Upper School. English is taught as a core subject in every grade, and we offer an Advanced Placement English course in the upper grades.
Beginning in 5th grade, GIS students benefit from an intensive curriculum in mathematics, sciences (physics, chemistry, biology), social studies (European and American), art and music. GIS students earn both a NY State high school diploma and the world-renowned German International Abitur (Deutsche Internationale Abiturprüfung, or DIAP), Germany's highest college preparatory degree. GIS graduates are regularly accepted to the finest colleges and universities in the US, Canada and Europe. In addition to the top German-speaking universities, our graduates currently attend or have recently graduated from (among many others): Columbia, NYU, Yale, Barnard, Julliard, Sarah Lawrence, Harvard, MIT, Princeton, Brown, Stanford, Georgetown, Oxford (UK), McGill (Canada) and SciencesPo (France).
GIS opens a world of opportunities for your child!
Testimonials
No Reviews yet. Be the first one!

Want to become
a testimonial?
You loved the event, service or product? Like to recommend it? Just send us your review.
Write review


Service Listing
missing?
If you know a great service provider that is not listed yet, let us know!
Send us a mail