4 locations in greater New York
Ridgewood, Manhattan, Long Island
Telephone: (212) 787 7543
Website: german-american-school.org
Email: germanamericanschool@verizon.net
Contact: School Administrator
Languages: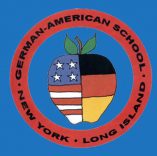 German-American School offers an after-school program in which children can learn German. The school has a long connection with the NY area: it was founded in 1897 to educate children of German immigrants. At that time the entire curriculum was in German. Today the school reflects the diversity of New York's population: children of all backgrounds learn German in our NY State Board of Regents accredited language program. Classes meet once a  week. Children as young as 4 learn by singing, drawing, coloring. Older Children engage with a more structured curriculum. Classes are bilingual.
We have four schools: Manhattan (upper East Side), Ridgewood Queens, Franklin Square and Garden City– please consult german-american-school.org for details.
German-American School's goal is to teach children German. Ours is an afterschool program accredited by the Board of Regents of the State of New York.
We offer classes from Playgroups (ages 4) to 8th or 9th grade, when the students graduate with an accredited diploma.
Classes meet once a week from 4:30 – 6:15.
We teach German as a foreign language, however, many of our families are from bilingual backgrounds. In addition to our NY Board of Regents accredited diploma we also offer other exams such as AATG exams, Zertifikat Deutsch als Fremdsprache, and AP German for students who want to take German in College.
We have four locations – please consult german-american-school.org for details.
Picture Gallery
(5)

Testimonials
No Reviews yet. Be the first one!

Want to become
a testimonial?
You loved the event, service or product? Like to recommend it? Just send us your review.
Write review


Service Listing
missing?
If you know a great service provider that is not listed yet, let us know!
Send us a mail