50 Partridge Rd
White Plains, NY 10605
Telephone: (914) 948 6513
Website: www.gisny.org
Email: admissions@gisny.org
Contact: Marina Lula, Admissions Officer
Languages: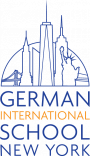 GISNY's Pre-Kindergarten program offers three- and four-year old children a bright, spacious, and nurturing environment, where they are encouraged to embrace discovery both in- and outdoors.
Our Nature-Based Early Childhood Educational Program (NBECE) cultivates learning through exploration and allows students in Pre-K and Kindergarten to enjoy most of their school day outdoors exploring, learning, and playing on our beautiful 20-acre campus.
Our bilingual Pre-K & Kindergarten programs incorporate the "One teacher – one language" approach. One teacher only speaks German, and the second teacher only speaks English to the children. By first grade, the children can follow the lessons taught in German as well as in English. Children entering our Pre-K or Kindergarten programs are not required to speak or understand German.
All nationalities are welcome!
Learn more about our wonderful program and register for our next Virtual Open House or schedule a private campus tour @ GISNY.org/admissions.
Testimonials
"Bilingualism, internationalism, STEM and private, tailored teaching makes for great outcomes! All 3 of my kids went to this school from the ground up, my oldest daughter graduated in 2020, got a scholarship to study biochemistry at a top university. All 3 are not just perfectly bilingual plus some decent Spanish & French but put me to shame in math and sciences (I went to a regular US high school). This school shines even among top private NYSAIS schools for it's math & sciences. From Kindergarten on they model good behaviors and teach self-discipline, respect, tolerance & critical thinking that set up the kids for long-term success. We were lucky to have this school as an option, it is a differentiator, we can see how our daughter has a competitive edge. Thank you to this school and it's great staff and teachers!"Rainer Kraft

Want to become
a testimonial?
You loved the event, service or product? Like to recommend it? Just send us your review.
Write review


Service Listing
missing?
If you know a great service provider that is not listed yet, let us know!
Send us a mail