381 High Ridge Rd
Stamford, CT 06905
Telephone: (203) 548-0438
Website: germanschoolct.org
Email: stamfordinfo@germanschoolct.org
Languages:



2nd Location:

West Hartford
First Baptist Church
90 North Main Street
West Hartford, CT 06107
Email: hartfordinfo@germanschoolct.org
(860) 404-8838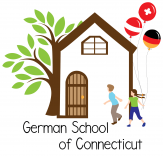 Registration is open for in-person classes for the school year 2022/23!
The German School of Connecticut is a Non-Profit-Saturday School. It was established in 1978 and has campuses in Stamford and West Hartford. Our goal is to make the German language accessible to as many people as possible. In our language instruction, we organically incorporate exposure to the German culture, because a language is much more than just a way of communication. It holds the key to develop awareness of and open-mindedness about another culture and to foster mutual respect and understanding.
Lessons take place on Saturdays from 9:30am until 12:15pm. We offer classes for all ages and abilities, for native speakers as well as for students who would like to learn German as a second language. Our varied program offers classes for children as young as 18 months of age with a parent-and-me class, early education classes for children, school age classes including preparatory courses for the German Deutsches Sprachdiplom I and II, and adult classes. We prepare students for the following exams:
AATG – National German Exam, AP – Advanced Placement Exam-German, SAT-II- German, DSD – Deutsches Sprachdiplom I & II. In addition to in-person classes for adults on Saturdays, our school also offers online instruction for adults on weeknights giving our students the possibility to flexibly integrate our language instruction into their schedules.
A large variety of cultural events enrich academic education. For over 40 years, the German School of Connecticut has been participating with a float at the Steubenparade.
We also celebrate St. Martin, Nikolaus, and Karneval among other events to keep the German traditions alive.
Testimonials
No Reviews yet. Be the first one!

Want to become
a testimonial?
You loved the event, service or product? Like to recommend it? Just send us your review.
Write review


Service Listing
missing?
If you know a great service provider that is not listed yet, let us know!
Send us a mail