381 High Ridge Rd
Stamford, CT 06905
Telephone: (203) 548-0438
Website: germanschoolct.org
Email: stamfordinfo@germanschoolct.org
Languages:


2nd Location:
West Hartford
First Baptist Church
90 North Main Street
West Hartford, CT 06107
Email: hartfordinfo@germanschoolct.org
(860) 404-8838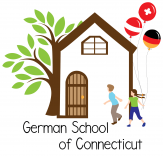 Registration is open for in person classes this fall 2021! The German School of Connecticut offers an exceptionally varied program of teaching and learning for all levels of German proficiency for children starting at the age of 18 month with a parent-and-me class, early education classes for children, school age classes including preparatory courses for the German Deutsches Sprachdiplom I and II, and adults classes.
In the course of our academic program, our students will be immersed in a friendly and encouraging educational environment. We place special value on a communicative language approach of speaking, reading and writing German embedded in the bigger context of intercultural understanding. This holistic approach enables our graduates to be well-prepared for the globally-networked society of knowledge that awaits them. We are proud that our alumni are studying at the best universities around the world, and with their university degrees, they are successful in many different professions.
Learning German is fun and in addition to our high standard German classes, we make sure that both parents and students get to immerse themselves in a German micro environment by, for example, spending some quality time in our libraries or mixing and mingling with other parents. We also offer many cultural events, such as our St. Martin's celebrations, German Christmas, German Fasching, and year-end celebrations.
Testimonials
No Reviews yet. Be the first one!

Want to become
a testimonial?
You loved the event, service or product? Like to recommend it? Just send us your review.
Write review


Service Listing
missing?
If you know a great service provider that is not listed yet, let us know!
Send us a mail