50 Partridge Road
White Plains, New York 10605
Telephone: (914) 948-6513 ext. 203
Website: www.gisny.org
Email: languageschool@gisny.org
Contact: Dr. Stefanie Mischner
Languages:


Classes:
Wednesdays: 4:15pm – 6:30pm
Saturdays: 9:30am-3:00pm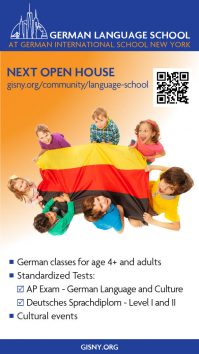 Welcome to the German Language School at German International School New York – Herzlich Willkommen an der Deutschen Sprachschule an der Deutschen Internationalen Schule New York!
If you are looking for German language classes with focus on a holistic, hands-on learning experience either for your child(ren) or yourself, you will find this at our beautiful and culturally rich school, located in a quiet residential neighborhood in White Plains.
We provide our students – starting with PreK-4 through high school, and adult learners – with a caring environment based on academic excellence and individual growth. Our students improve their German language skills while experiencing traditions and culture of all German speaking countries.
We encouraging our students to take part in standardized exams providing formal proof of their language skills. Our students have the opportunity to take all levels of the German Nation Exam, the Advanced Placement "AP German Language and Culture"-exam, and last but not least the German standardized exams including the German Sprachdiplom DSD1 (level A2/B1) and DSD2 (level B2/C1). Particularly the German Sprachdiplom provides our students with a gateway to the European education system of higher education.
We are proud that we have been recognized as a Center of Excellence by the American Association of Teachers of German, listed as an official PASCH school by the Partner School Initiative of the German Federal Foreign Office, and are members of the American Association of Teachers of German and the German Language School Conference GLSC.
We believe that learning multiple languages is more important in today's global community than ever. It is an important steppingstone for deeper understanding and appreciation of other cultures. Thus, if you agree with Wilhelm von Humboldt, that LANGUAGES ARE THE GATEWAY TO THE WORLD, we encourage you to explore what the German Language School at GISNY has to offer thanks to its high quality, yet affordable, small language classes, and our supportive, and stimulating learning environment.
In-person Classes:
WEDNESDAYS: 4:15 – 6:30pm
WEDNESDAYS: 4:30pm – 6:30pm (Adult Language School classes)
SATURDAYS: 9:30am – 12:00pm
*DSD2 classes: 12:30pm – 3pm
We offer:
American standardized exams:
– National German Language Exam
Level 2
Level 3
Level 4
–  Advanced Placement Exam: German
European standardized exams:
– Deutsches Sprachdiplom der KMK –
IVA A1
IVA A2
DSD1 A2/B1
DSD2 B2/C1
Sign up for the next Open House and find out more:
German International School New York – German Language School (gisny.org)
Testimonials
No Reviews yet. Be the first one!

Want to become
a testimonial?
You loved the event, service or product? Like to recommend it? Just send us your review.
Write review


Service Listing
missing?
If you know a great service provider that is not listed yet, let us know!
Send us a mail