Follow our CityErleben blog to get periodic updates on the best activities with or without your kids like museums, playgrounds, festivals, free programs, day trips and weekend excursions. Get the best out of NYC tested by fellow CityKinder Moms & Dads and our contributors.
Apple Picking around NYC
September 20th 2019, 1pm
comments: 0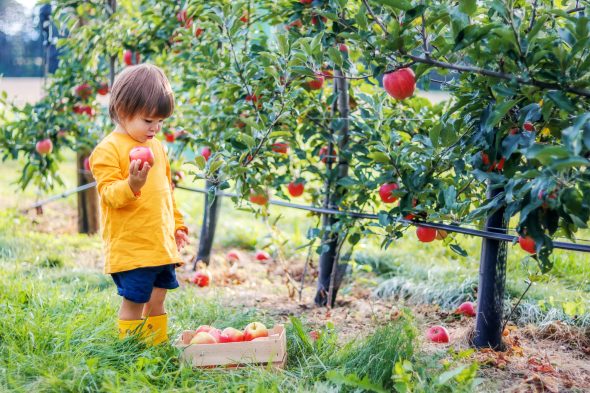 Wenn es Herbst wird im Nordosten der USA freuen sich die Kinder nicht nur auf Halloween, sondern auch auf das traditionelle "Apple Picking".
An den Wochenenden ziehen ganze Familienscharen aus den Grosstädten aufs Land, um per Hand die verschiedensten Apfelsorten zu pflücken. Für jeden Geschmack ist etwas dabei.
Natürlich haben sich die Amerikaner dazu noch einige Kinderaktivitäten überlegt: Auf den meisten Farmen gibt es auch Planwagenfahrten, ein Maislabyrinth, Ponyreiten oder Streichelzoos, Heuballenhüpfen, Essen und Trinken und vielerorts die beliebten Apple Cider Donuts.
Erwachsene sollen aber auch nicht zu kurz kommen. Die meisten Obstplantagen und Farmen bieten an gewissen Wochenenden Festivals mit Livemusik, Apfel Cider mit Schuss und meist noch einen "Farm Stand", an dem man alle möglichen frischen Produkte kaufen kann.
Wir haben die beliebtesten Apple Picking Ausflugsziele für euch ausgesucht:
New York
Harvest Moon Farm & Orchard
130 Hardscrabble Road
914-485-1210
Diese Familien geführte Obstplantage liegt ungefähr eine Autostunde von Manhattan Midtown entfernt und ist auch via Metro-North erreichbar, für diejenigen ohne Auto (mit dem Taxi von Corton Falls station). Das jährliche 'Apple Picking' beginnt hier, je nach Vegetation, ab Layor Day. An den Wochenenden im September und Oktober veranstaltet die Farm zudem eine Art Festival mit Ponyreiten, Hüpfburgen, Kinder schminken und Kürbis patch. Außerdem solltet ihr unbedingt die frisch gebackenen Doghnuts probieren!
Orchards of Concklin
2 South Mountain Road
845-354-0369
The Orchards of Concklin Farm ist seit über 10 Generationen eine Institution in Rockland County und liegt etwa eine Stunde Fahrtzeit von Manhattan Midtown entfernt. Auch hier startet das jährliche 'Apple Picking' um den 14. September. Der Eintrittspreis, den jeder Besucher ab 3 Jahren zahlt, ist ein halb voll gepflückter Sack Äpfel für 11 Dollar, den es zu füllen gilt.
New Jersey
Alstede Farms
1 Alstede Farms Lane
908-528-8823
Alstede Farms in Chester New Jersey liegt ca. eine Autostunde von Manhattan Midtown entfernt und ist, für diejenigen ohne Auto, mit dem New Jersey Transit erreichbar. Von der Gladstone Station gibt es einen kostenlosen shuttle zur Farm. Diese bietet neben dem täglichen 'Apple Picking' auch ein Mais Labyrinth, Ponyreiten, Heufahrten, eine Hüpfburg und den Streichelzoo der Farm Tiere und das nicht nur an den Wochenenden!
Wightman's Farms
1111 Mount Kemble Avenue
973-425-9819
Die Wightman's Farms in Morristown ist ein sehr beliebtes Ziel gerade bei den umliegenden Bewohnern. Da kann es an den Wochenenden schon mal voll werden. Hier gilt es, der frühe Vogel bekommt den Apfel und den Parkplatz! Gelegen ist auch diese Farm etwa eine Stunde Fahrtzeit von Manhattan Midtown entfernt. Der Eintrittspreis, für jede Person ab 3 Jahren, beträgt 7 Dollars und beinhaltet eine Mitgliedschaft für die ganze Saison. Ermäßigungen für Wochenend-Attraktionen, wie Heufahrten, Mais Labyrinth und Kürbis schießen, inklusive.
Long Island
Hank's Pumpkin Town in Water Mill, lasst euch von dem Namen nicht beirren – hier gibt es viele Äpfel, die nur darauf warten gepflückt zu werden. Im Herbst gibt es dazu noch eine Menge andrer Dinge, wie der Labyrinth Park, Spielplätze, Kinder Schminken, Traktor fahren üben und vieles mehr.
Diese Familien geführte Obsplantage in Aquebogue, Jamesport, besteht seit 1982 und besticht mit über 30 verschiedenen Apfelsorten. Zudem gibt es hier frisch gebackene pies, Apple Cider, Apfelwein und einen Geschenke Laden, in dem man zum Beispiel den auf der Farm produzierten Honig kaufen kann.
Ob New York, Long Island oder New Jersey wir wünschen euch viel Spaß und "fröhliches Apfel Pflück".
Leave us a comment!