Follow our CityErleben blog to get periodic updates on the best activities with or without your kids like museums, playgrounds, festivals, free programs, day trips and weekend excursions. Get the best out of NYC tested by fellow CityKinder Moms & Dads and our contributors.
Carnegie Hall Family Concert: Ein wunderbares Erlebnis für die ganze Familie
December 9th 2012, 10pm
comments: 0
Auf den heutigen Nachmittag haben wir uns schon lange gefreut. Mit unseren beiden Kindern ging es heute in die berühmte Carnegie Hall. Mehrmals im Jahr finden dort Familienkonzerte statt, die Familien mit Kindern jeglichen Alters die Möglichkeit geben tolle Konzerte zu besuchen.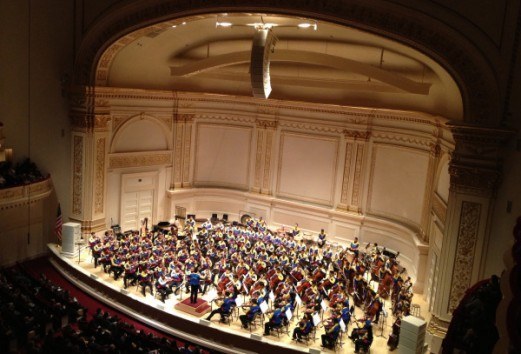 Das heutige Orchester war das "Simón Bolívar Symphony Orchestra of Venezuela". Die einzelnen Stücke wurden angesagt und es wurde lebhaft und für alle gut verständlich erklärt, um was es im nächsten Stück geht. Zum Beispiel war es einmal ein Tanz, bei dem vorher alle mal die Schrittfolge mitmachen durften, oder eine Melodie, die von allen Besuchern nachgesungen werden durfte. Die einzelnen Stücke war nicht zu lang und sehr abwechslungsreich.
Das Konzert ging ca. 75 Minuten und war somit auch für die Kinder gut durchzuhalten. Ein toller Nachmittag und eine Empfehlung für alle, die Lust auf Musik und ein tolles Konzerthaus haben.
Website: www.carnegiehall.org/Education/Family-Concerts
Preise: 9 – 20 USD pro Ticket
Leave us a comment!