Follow our CityErleben blog to get periodic updates on the best activities with or without your kids like museums, playgrounds, festivals, free programs, day trips and weekend excursions. Get the best out of NYC tested by fellow CityKinder Moms & Dads and our contributors.
Thanksgiving Parade und andere "Must-Do" Aktivitäten mit Kindern
November 17th 2022, 12am
comments: 0
Thanksgiving steht vor der Tür. In Deutschland wird dieser Tag noch nicht gefeiert, aber in den Vereinigten Staaten ist er einer der wichtigsten Feiertage an dem Familien und Freunde zusammenkommen und den berühmten Truthahn essen. Eines der aufregendsten Erlebnisse an Thanksgiving in New York ist die alljährliche Macy's Thanksgiving Day Parade, ein Muss nicht nur für Kinder!
Thanksgiving Parade
Jedes Jahr findet die dreistündige Thanksgiving Parade in Manhattan von 9:00 bis 12:00 Uhr statt. Sie beginnt an der 77th Street und geht
entlang des Central Parks bis zur 59th Street, Columbus Circle, wo die Parade dann in den Central Park South einbiegt. An der 6th Avenue führt die Parade von der West 59th hinunter zur West 34th Street (Herald Square), wo sie direkt vor Macys hält. Tolle Aussichten gibt es an der Westseite des Central Park von der 75. bis zur 59. Straße und an der 6th Avenue von der 59. bis zur 38. Straße, aber man muss früh aufstehen! Frühaufsteher reservieren dort bereits ab 6 Uhr morgens die besten Plätze…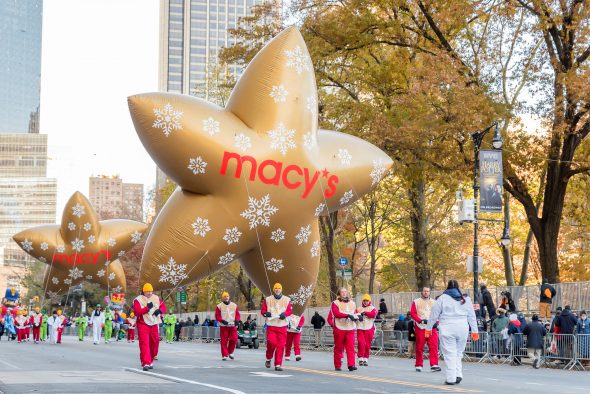 CityKinder Tip: Inflating the Balloons
Da es mühsam ist, vor allem mit kleinen Kindern so früh die besten Plätze für die Parade zu ergattern ziehen es viele New Yorker Eltern vor, das Aufblasen der Ballons anzusehen, das am Vorabend der Parade stattfindet. Das alljährliche Aufblasen der Ballons findet von 13 bis 20 Uhr um das Museum für Naturgeschichte in Manhattan statt. Gegen 15 Uhr nehmen die ersten Ballons Gestalt an, so dass dies eine gute Zeit für einen Besuch ist. Wenn Sie später am Abend kommen, ist das Gedränge viel größer, aber es gibt natürlich auch mehr vollständig aufgeblasene Ballons zu sehen. Nichts für schwache Nerven oder Klaustrophobie.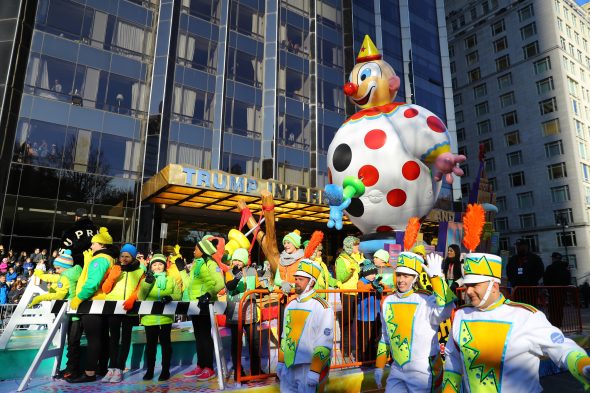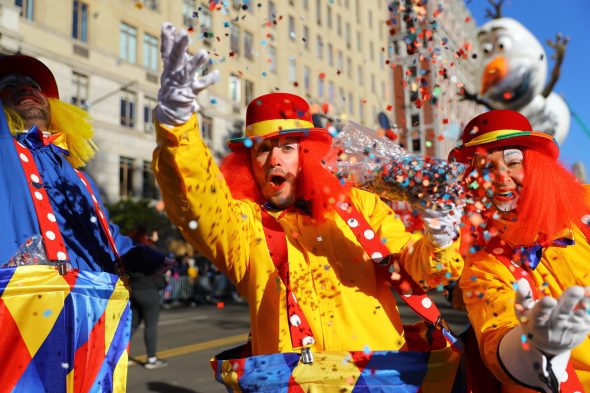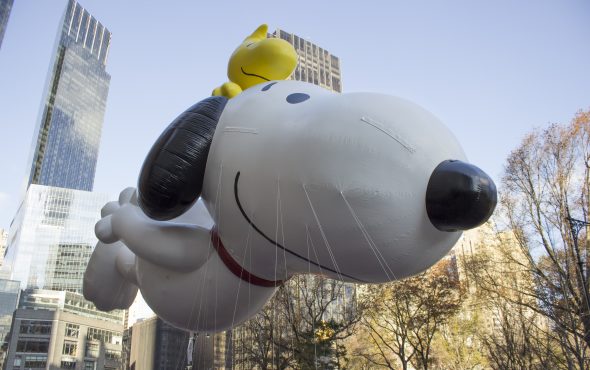 Weitere Vorschläge für die Feiertage:
Santaland bei Macy's am Herald Square
Vom 25. November bis  24. Dezember
Nach der Thanksgiving Day Parade findet der Weihnachtsmann seinen Weg zum berühmten Kaufhaus, wo er Kinder im Santaland willkommen heißt – einem Weihnachtsdorf mit Elfen, einem magischen Wald und einer Zugshow. Der Eintritt ist frei! Professionelle Fotos werden zum Kauf angeboten, sind aber freiwillig. Um den Weihnachtsmann zu treffen, ist eine Reservierung erforderlich.
Dyker Heights Christmas Lights
Vom 26. November bis Silvester
Die berühmten Weihnachtslichter in Dyker Heights, Brooklyn, werden traditionell am Thanksgiving-Wochenende angeschaltet. Am besten vor 21.00 Uhr kommen!
Holiday Train Show im New York Botanischen Garten
New York Citys beliebteste Feiertagstradition kehrt am 23. November zurück. Die diesjährige Show präsentiert mehr als 175 berühmte New Yorker Wahrzeichen, wie z. B. die Freiheitsstatue, die Brooklyn Bridge, das Rockefeller Center und andere beliebte Sehenswürdigkeiten, die alle aus natürlichen Materialien wie Birkenrinde, Eicheln und Zimtstangen nachgebaut wurden. Sichern Sie sich Ihre Eintrittskarten frühzeitig!
Leave us a comment!