Follow our CityErleben blog to get periodic updates on the best activities with or without your kids like museums, playgrounds, festivals, free programs, day trips and weekend excursions. Get the best out of NYC tested by fellow CityKinder Moms & Dads and our contributors.
The Metropolitan Museum of Art: Start with Art
December 12th 2012, 12pm
comments: 0
Wie so vieles im "Metropolitan Museum of Art" (oder einfach nur Met genannt) ist auch das Programm für Familien und Jugendliche unglaublich groß und vielfältig. Jedes Quartal gibt es ein mehrseitiges Heft, das sich "Family And Teen Programs" nennt und das alle Veranstaltungen beschreibt und auflistet. Die meisten dieser Veranstaltungen sind mit dem Museums-Eintritt kostenfrei.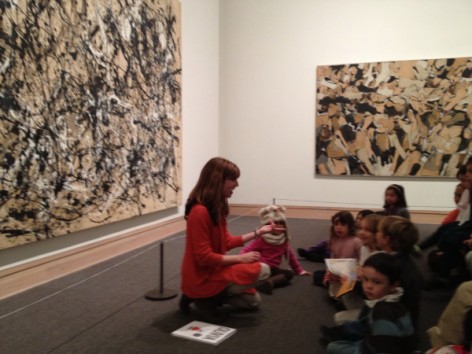 Wir haben uns das Programm für die Kleinsten ausgesucht. Es heißt "Start with Art" und findet immer am Donnerstag von 15:30-16:30 Uhr statt. Nach einer kurzen Einführung ging's los in die Ausstellung und alle Kinder durften sich dann um ein Gemälde von Edgar Degas setzen und die Leiterin hat ein schönes Bilderbuch (Olivia) vorgelesen, in dem genau dieses Bild von Degas abgebildet war. Die Kinder durften dann selber sagen was sie auf dem Bild sehen und die Leiterin hat viele Tips und Informationen dazu gegeben.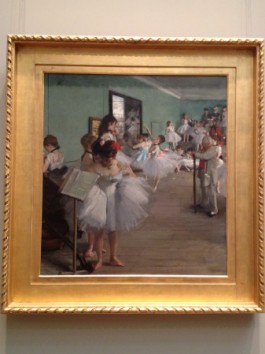 Weiter ging es dann zum nächsten Bild, das auch in dem Buch war: ein riesengroßes Gemälde von Jackson Pollock. Auch hier wurden die Kinder ganz toll eingebunden und es wurde lebhaft erklärt wie der Maler das Bild gemalt hat, wie lange er dazu gebraucht hat, wie das Bild heißt uvm. Zum Schluß durften sich die Kinder in der modernen Gallerie irgendein Bild aussuchen, sich davor setzen und haben Stift und Blatt bekommen und hatten noch Zeit zum Malen. Eine wunderbare Stunde mit einem Bilderbuch, schönen Gemälden und der Möglichkeit selbst was zu malen.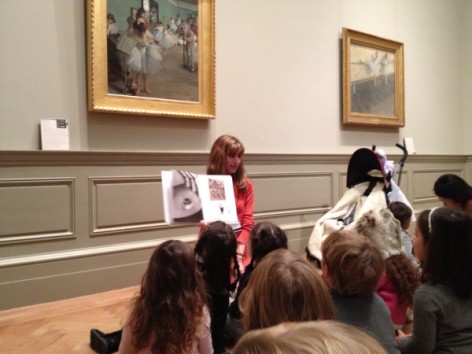 Auch kann ich die Storytime, die Dienstag – Freitag jeweils zweimal täglich in der Nolen Library stattfindet, empfehlen. Die Nolen Library hat eine schöne Kinderbuchabteilung und befindet sich im Erdgeschoß des Met.
Eintritt: das Met hat eine "suggested admission" von 25 USD pro Person, Kinder unter 12 Jahren sind frei. Da es sich aber um eine "suggested admission" handelt, kann jeder auch nur soviel geben wie er will und kann. Oder für alle, die regelmäßig die Ausstellungen besuchen und Veranstaltungen mitmachen wollen, bietet sich wie so oft eine Membership an.
Website: www.metmuseum.org
Autor: Gabi, die auch noch die "Highlight-Tours" für Erwachsene empfehlen kann
Leave us a comment!