Follow our CityErleben blog to get periodic updates on the best activities with or without your kids like museums, playgrounds, festivals, free programs, day trips and weekend excursions. Get the best out of NYC tested by fellow CityKinder Moms & Dads and our contributors.
Top 5 Aktivitäten in NYC zur Weihnachtszeit
December 16th 2018, 6pm
comments: 0
Erlebe die Magie von New York City zur Weihnachtszeit.
Die ganze Stadt erstrahlt im weihnachtlichen Glanz und an jeder Ecke gibt es etwas anderes zu bestaunen.
Wir haben für euch die "Top 5" Aktivitäten für die gesamte Familie zusammengestellt.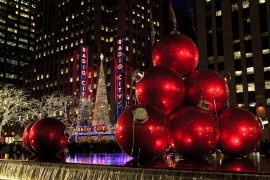 1. Besuch des Columbus Square Weihnachtsmarktes
NYC und Umgebung hat inzwischen einige Weihnachtsmärkte zu bieten. Auf unserem Blog haben wir euch alle Informationen zusammengefasst.
Unser Lieblings-Weihnachtsmarkt ist allerdings der am Columbus Square. Vielleicht liegt es ja daran, dass es dort auch echten Glühwein von German Delights Inc. gibt.
2. CityKinder Nikolausfeier
Über 70 Familien kommen jedes Jahr zusammen um zu basteln, zu singen und den Nikolaus willkommen zu heißen. Das Nikolaus Event ist eines der "favorite events" von den deutschen Familien in NYC.
3. Rockefeller Christmas Tree und Saks Fifth Avenue Weihnachtsshow
Der berühmte Weihnachtsbaum steht in NYC auf dem Rockefeller Plaza und nur einen Block entfernt auf der 5th Avenue erstreckt sich eine tolle Licht- und Musikshow auf dem Gebäude von "Saks Fifth Avenue". Ein "Must-See" zur Weihnachtszeit.
4. Dyker Height in Brooklyn
Von Thanksgiving bis Neujahr dekorieren die Bewohner der Dyker Heights in Brooklyn ihre Häuser mit funkelnden Lichtern und tollen Figuren. Die Beleuchtungen starten von der 11. bis zur 13. Avenue und von der 83. bis zur 86. Straße in Dyker Heights, Brooklyn. Am besten lasst ihr das Auto zuHause stehen und nehmt den D Train zur 79. Straße und New Utrecht in Brooklyn. Tip: Die meisten Häuser schalten ihre Lichter um 21 Uhr aus!
5. Rockettes Christmas Spectacular
Die Radio City Rockettes veranstalten in der Radio City Hall jedes Jahr zur Weihnachtszeit eine Show bestehend aus Gesang, Tanz, Performance, Humor und traditionelle Szenen. Die Show geht 90 Minuten und sollte mindestens einmal im Leben besucht werden. Achtung, eure Kinder möchten sehr wahrscheinlich danach auch Tänzer werden!
Leave us a comment!