Follow our CityErleben blog to get periodic updates on the best activities with or without your kids like museums, playgrounds, festivals, free programs, day trips and weekend excursions. Get the best out of NYC tested by fellow CityKinder Moms & Dads and our contributors.
Weihnachtsdeko in den Dyker Heights, Brooklyn
December 21st 2018, 5am
comments: 0
Ein wahres Highlight in der Weihnachtszeit in New York, ist ein Besuch der Dyker Heights Christmas Lights. Die meisten Touristen kommen für die Weihnachtsbeleuchtung rund um das Rockefeller Center und die Fifth Avenue nach New York, aber für Insider ist Dyker Heights auf jeden Fall eine Reise nach Brooklyn wert.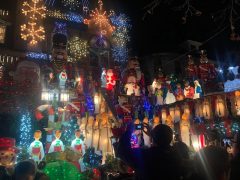 Dyker Heights ist ein ehemals italienisches Viertel im Süden von Brooklyn mit vielen Straßenzügen von freistehenden oft noch alten Häusern. Zur Weihnachtszeit überbieten sich die Nachbarn dort mit Weihnachtsdekorationen. Von klassisch, über witzig (zum Beispiel Santa im Toilettenhäuschen) über komplett überladen gibt es für jeden Geschmack etwas zu sehen.
Die besten Dekorationen gibt es zwischen der elften und zwölften Avenues in Höhe der 80. bis 84. Streets. Wenn man mit dem Auto unterwegs ist, lohnt es sich auch einfach durch das Viertel zu fahren. Um das Zentrum herum wird es natürlich etwas anstrengend mit all den Fußgängern.
So kommt man hin:
Nehmt den D Train bis zur 79. Straße und New Utrecht Avenue, Brooklyn. Von dort müsst ihr noch ca. 15 mins zu Fuß laufen, bis man zum ersten Haus kommt und leider ist die Umgebung recht hügelig.
Tip: Nicht zu spät kommen, denn viele der Lichter und Animationen schalten sich um 9:00 Uhr bereits ab.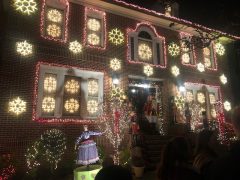 Essen & Trinken:
Wenn man schon mal in einem italienischen Viertel ist, sollte man natürlich auch italienisch essen gehen. Wir haben zwei alte Neighborhood Restaurants auf der elften Avenue gefunden, die beide recht authentisch erschienen:
Wir sind in Letzterem gelandet und die Klientel waren auf jeden Fall fast nur Stammgäste, denn der Besitzer hat viele Leute mit Umarmung und Namen begrüßt.
Die Pasta war sehr gut, aber die Preise waren durch aus mit Manhattan vergleichbar.
Tip: Beide Restaurants sind zum laufen etwas weit von den Christmas Lights. Man muss entweder 5 Minuten Autofahren oder sich vielleicht kurz ein Uber rufen.
Leave us a comment!