Follow our CityErleben blog to get periodic updates on the best activities with or without your kids like museums, playgrounds, festivals, free programs, day trips and weekend excursions. Get the best out of NYC tested by fellow CityKinder Moms & Dads and our contributors.
7 Tips Where to Spend an Indoor Pool Day with your Family
January 27th 2020, 2pm
comments: 0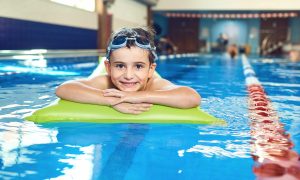 One of our favorite activities in Germany during winter, when it is cold and wet outside, was to enjoy the wet inside and to go to either an adventure pool or a regular "Schwimmbad" in town.
Well, now in New York we have found that this is not so easy to do. But there are some secret and not so secret tricks how you can still have a great bathing day!
1. Use the "Day Pass" for a hotel with indoor pool
Yes, that really works! New York has so many hotels and many of the hotels also have a fitness area with a pool facility. These pools are of course not adventure pools with slides etc. but definitely worth a visit if the children want to splash around and the adults want to enjoy a little peace and quiet or even a wellness treatment.
Where? Brooklyn – Marriott at the Brooklyn Bridge
Midtown – Park Hyatt New York
Downtown – Four Seasons Hotel Downtown
How much? between 30$-40$
2. Asphalt Green – UES
This swimming pool reminds us very much of the municipal "Schwimmbäder" in Germany, with diving boards and long laps. Here you can also buy a "Day Pass" for 35$. There are also regular swimming lessons in this swimming pool. Just make sure that you visit during the "family recreational swim schedule".
3. Sportspark Roosevelt Island
This pool is similar to the Asphalt Green, except that it is much cheaper. Family passes are only $10 and a child admission is only $2. Attention: Also here there are fixed swimming times for the public.
4. Pools in Recreation Centers
Many public recreation centers also have an indoor pool. Attention: You have to become a member of the recreation centers. A membership gives you the opportunity to visit any recreation center in NYC. You get access to many swimming pools and other exciting activities (e.g. swimming lessons). A membership is free for children and for adults it costs $150 per year.
5. Camp Olympia Family Swim 
This is also a cheap way ($7 per person) for the whole family to go splashing around in Brooklyn. Attention: The Family Swim times are unfortunately very short – but sometimes an hour is enough to get the energy out.
6. Adventure pools like Great Wolf Lodge, Camelback Resorts, Kalahari or Coco Key
If you want to plan a whole weekend of action, book a getaway at the Great Wolf Lodge. This is a real adventure pool where no child will be bored. Unfortunately there is no Daily Pass and you have to book a night at the hotel. We have been there before and wrote down our experience here.
Coco Key has two locations that are also easily accessible from NYC (NJ and Connecticut). The good thing is that Coco Key has day passes available. You have to be careful though: We don't think it's worth it for the really young kids. We have been there before and tested the swimming pool. Read more here.
7. The new one! 
Kartrite resort & indoor waterpark has opened its doors in 2019. It is New York's Biggest Waterpark and you have the possibility to either take a weekend getaway or just buy a day pass
Leave us a comment!