Follow our CityErleben blog to get periodic updates on the best activities with or without your kids like museums, playgrounds, festivals, free programs, day trips and weekend excursions. Get the best out of NYC tested by fellow CityKinder Moms & Dads and our contributors.
Great Wolf Lodge – Wasserspaß in den Poconos
December 23rd 2014, 4pm
comments: 0
Es ist eine unsere Traditionen in der Vorweihnachtszeit 2 Nächte in der Great Wolf Lodge in den Poconos zu verbringen.
Mit dem Auto sind es von der George Washington Bridge aus ziemlich genau 1.5 Stunden Fahrzeit. In der Lodge angekommen findet man sich zuerst in der Lobby, die auch gleich voll durch-thematisiert ist mit den Great Wolf Characters.
Die meisten Zimmer haben für die Kinder ein Stockbett in einem abgetrennten Teil des Zimmers, das entweder wie eine Wolfshöhle oder wie ein Zelt gebaut ist. Der eigenen TV für die Kids darf natürlich nicht fehlen.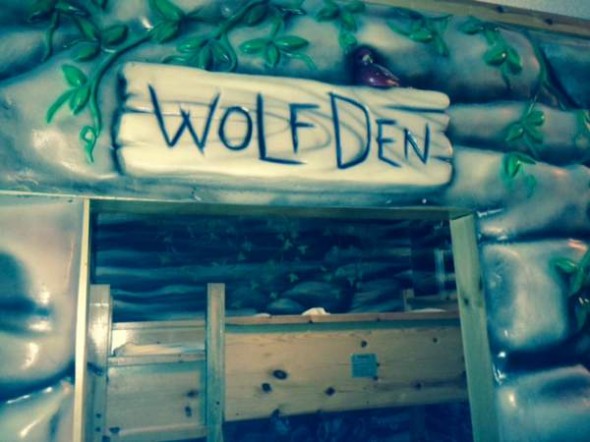 Man kann sich 2 Tage lang ohne weiteres nur im Hotel aufhalten. Die Hauptattraktion ist natürlich der Wasserpark mit verschiedenen Rutschen, einem Wellenbecken, Lazy River, Whirlpool und einer riesengrossen Anlage, die alle 5 Minuten einen grosse Eimer Wasser auf die Leute schüttet (Vorsicht mit kleinen Kindern – das Wasser kommt sehr hart runter). Was ich mir als Erwachsener wünschen würde, wäre eine kinderfreie Zone oder ein Becken einfach nur zum Schwimmen – aber man ist ja schliesslich der Kinder wegen dort….
Für die Mamas gibt es aber zumindest einen Spa (der mir komischerweise beim ersten Besuch gar nicht aufgefallen ist) und ein Fitness Studio. Auch für die Kids gibt es einen Spa und natürlich alle möglichen Unterhaltungen wie eine Kegelbahn, Indoor Minigolf, Spielhalle, und verschiedene Abenteuer Quests, die die Kinder durchs ganze Hotel führen (den Magic Wand muss man dazu allerdings erst kaufen).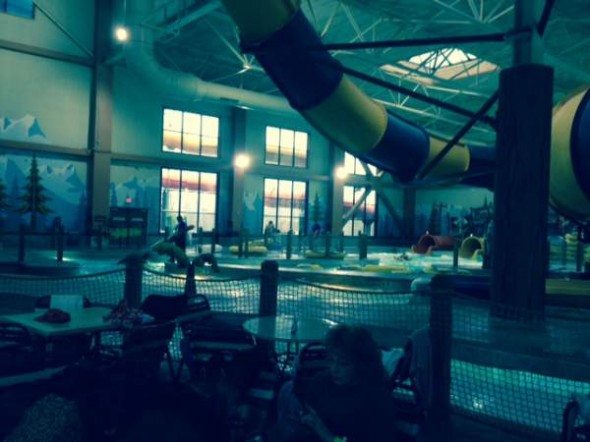 Wer gerne einen Gourmet Urlaub geniessen möchte, ist hier falsch. Es gibt ein Restaurant, das morgens und Abends ein Buffet anbieten und mittags Burgers, Sandwiches usw. Zu meiner grossen Freude gibt es einen Starbucks in der Lobby. Weiterhin gibt es 2 Pizzaläden, im Hotel, wo man sich die Pizza aufs Zimmer holen kann. Wir haben auch Familien gesehen, die ganze Costco Lieferungen mitbringen um die Grossfamilie durchzufuttern. Ist also auch erlaubt.
Drumherum gibt es ein paar ganz nette Diners und Restaurants, z.B. ein indisches Restaurant, dass sich in einem alten Zugabteil befindet. Ca. 5 min Fahrt von der Lodge entfernt gibt es eine Outlet Mall mit über 100 Geschäften mit all den grossen Brands, die man sich wünschen kann. Ideal also für den Vorweihnachtstrip…
Merken
Merken
Leave us a comment!