Follow our CityErleben blog to get periodic updates on the best activities with or without your kids like museums, playgrounds, festivals, free programs, day trips and weekend excursions. Get the best out of NYC tested by fellow CityKinder Moms & Dads and our contributors.
Halloween und Kürbisfestivals 2019 mit der Familie in und um New York City
October 16th 2019, 1am
comments: 0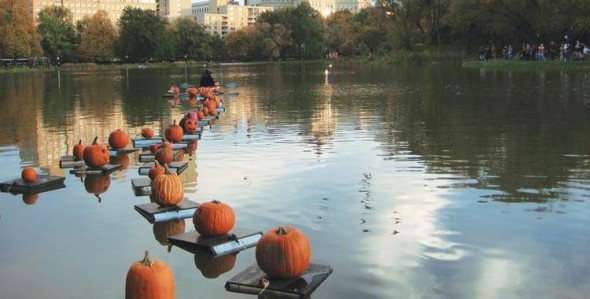 Halloween steht vor der Tür! Nun müsst ihr nicht nur Kostüme und Süssigkeiten kaufen, nein, ein gutes Program für die Kids muss auch her!
CityKinder hat für euch die besten Paraden und Aktivitäten für Halloween 2019 zusammen gestellt.
Ihr könnt auf Pinterest, tolle Ideen für Kostüme finden und einiges sogar selbst basteln.
Wenn das Basteln gescheitert sein sollte, dann könnt ihr hier auch noch kreative familienfreundliche Kostüme kaufen.
New York City:
Manhattan:
Lincoln Center Kids Halloween Treasure Hunt – Upper West Side
25. Oktober – 3. November | $25
The Friends of Washington Market Park Annual Halloween Costume Parade and Party–Tribeca
Sonntag, 27. Oktober | KOSTENLOS
Bitte beachten: Kinderwägen können leider nicht zum Event mitgenommen werden! Ihr könnt sie aber kostenlos an der Duane St oder der Greenwich St abgeben.
Am Samstag, 26. Oktober gibt es hier auch noch einen "Pumpkin Carving Contest".
Halloween: Parade and Pumpkin Flotilla – Central Park, Harlem Meer 
Mittwoch, 30. Oktober | KOSTENLOS
Kürbis nicht vergessen, wenn ihr gerne einen zur Flotilla beisteuern wollt!
VILLAGE HALLOWEEN PARADE – West Village
Mittwoch, 31. Oktober | KOSTENLOS – früh da sein!
Brooklyn:
Children's Halloween Parade  – Greenpoint
Donnerstag, 31. Oktober | KOSTENLOS
Annual Halloween Festival & Great PUPkin Dog Costume Contest – Fort Greene
Samstag, 26. Oktober | KOSTENLOS
DIE Veranstaltung für alle Hundeliebhaber – Kinder finden es klasse!
Halloween Parade – Park Slope
Sonntag, 27. Oktober | KOSTENLOS
Außerhalb NYC:
Halloween in a Magical Garden – Prospect Academy, White Plains, NY
Samstag, 26. Oktober
Mit tollen Spielen, Basteln, Live Musik und Trick-&-Treat
The Great Jack O' Lantern Blaze – Van Cortlandt Manor, Croton-on-Hudson, NY
3. Oktober – 31. November,
Erwachsene: $23 | Kinder & Jugendliche: 3-17, $17
Für Kinder unter 2 und Mitglieder ist der Eintritt kostenlos.
Für Info zu einigen kostenlosen Halloween-Events in New Jersey, schaut mal hier!
Leave us a comment!