Follow our CityErleben blog to get periodic updates on the best activities with or without your kids like museums, playgrounds, festivals, free programs, day trips and weekend excursions. Get the best out of NYC tested by fellow CityKinder Moms & Dads and our contributors.
Keine Angst vor "großen" Museen | The Guggenheim
October 24th 2012, 8pm
comments: 0
Letztes Wochenende war es soweit, seit langem schon stand das Guggenheim Museum auf meinem Plan und da sich auch mein Mann entschlossen hatte mit zu gehen, durften natürlich unsere beiden Töchter (5 und 4) auch nicht fehlen. Nach einem herbstlichen Spaziergang durch den Central Park kamen wir voller Erwartungen vor den "heiligen" Hallen an! Nur leider hatten auch andere diese Idee und so mussten wir uns erst einmal in die (gewohnte) Schlange stellen. Aber auch schon von außen fand ich das Gebäude sehr sehenswert und die vielen Stände mit netten Photos von New York haben die Zeit des Wartens ganz schnell verstreichen lassen.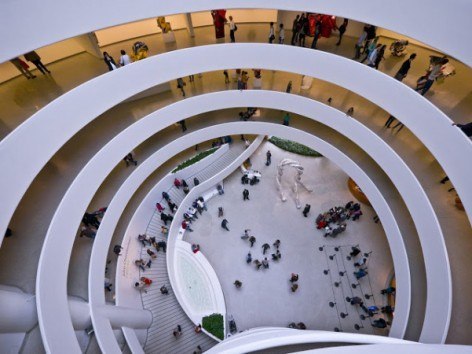 Im Museum selbst versorgten wir uns erst einmal mit vier Audio Guides. Für die permanenten Ausstellungen gibt es die auch in deutscher Sprache. Außerdem erhielt jedes Kind eine Tasche mit Skizzenblock, Stiften, Anregungen und Bastelutensilien, damit dieser Besuch ein echter Erfolg werden konnte. Dann ging es los mit unserer Entdeckungstour! Und natürlich wollten unsere beiden Mädels auch gleich mit dem Malen beginnen. Für ihre ersten künstlerischen Schritte wählten sie ein Werk von Picasso, setzten sich davor auf den Fußboden, packten ihre Stifte aus und begannen völlig gebannt mit ihren Skizzen. Erstaunlich fand ich, dass sich niemand daran störte, dass sich da zwei kleine Kinder breit machten und das, obwohl recht viel los war.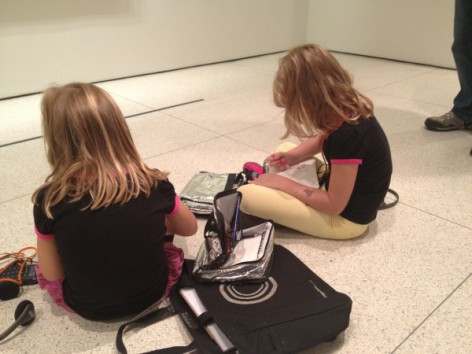 Eine weitere Besonderheit des Guggenheims ist natürlich der äußerst reizvolle architektonische Rundbau. Es ist immer wieder ganz spannend für die Kinder über die Brüstung zu schauen und zu sehen, wie klein die Menschen in der Eingangshalle werden. Von der Rotunde aus kann man in jedem Stockwerk in die einzelnen Auststellungsräume abbiegen und sich inspirieren lassen. Ich selbst war ganz beeindruckt von den Werken Der Blaue Reiter, zu dieser Gruppe gehören Kandinsky und Marc, die ich bereits aus München kannte.
Die Begeisterung bei den beiden Mädels war so groß, dass wir sie kaum noch für das Nachhausegehen überzeugen konnten. Ein gelungener Ausflug ging zu Ende. Ich selbst finde eine gute Vorbereitung für solche Ausflüge jedoch unentbehrlich. Meist erkundige ich mich kurz vor unseren Besuchen immer im Internet, welche Ausstellungen gerade gezeigt werden, welche Räume vielleicht geschlossen sind und wie die Angebote für Kinder aussehen, dann kann eigentlich gar nichts mehr schiefgehen und zur Not kann man den Kindern ja immer noch als Gegenleistung eine Stunde Spielplatz anbieten!
Viel Spass!
Informationen:
Links zur Website für aktuelle Informationen: www.guggenheim.org

Autor: Beatrice Groß – sie als Gastbloggerin vorzustellen fällt mir fast schon schwer, weil sie schon so viele großartige Berichte geschrieben hat, zum Beispiel über den Brooklyn Bridge Park und über Cape Cod.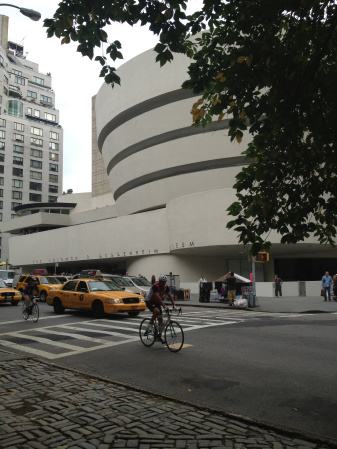 Leave us a comment!