Follow our CityErleben blog to get periodic updates on the best activities with or without your kids like museums, playgrounds, festivals, free programs, day trips and weekend excursions. Get the best out of NYC tested by fellow CityKinder Moms & Dads and our contributors.
Legoland Discovery Center – A day of fun and creativity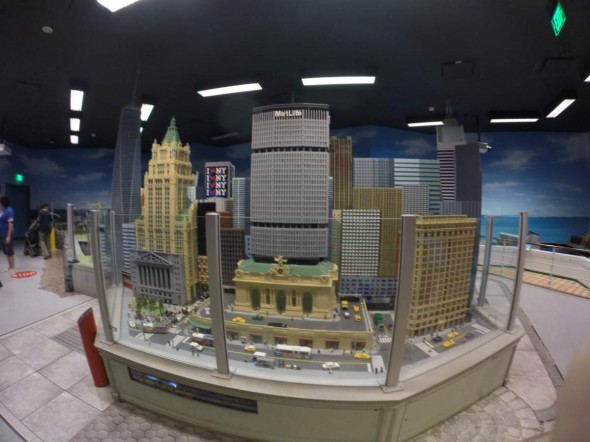 Egal ob Dein Kind auf Lego steht oder nicht, ein Besuch des Legoland Discovery Center in Yonkers ist ein toller Ausflug für Familien mit Kindern zwischen 2 und 8 Jahren.
Nicht zu vergleichen mit den klassischen Legoland Vergnügungspark mit Achterbahnen usw ist das Discovery Center eher ein  Indoor Erlebnis für jede Jahreszeit.
Am Eingang wird man von einem freundlichen "scientist" empfangen, der oder die den Kindern anhand von übergroßen Maschinen die Herstellung von Lego erklärt. Kinder können dann auf der Legowaage feststellen wieviele Legosteine ihr Gewicht aufwiegt.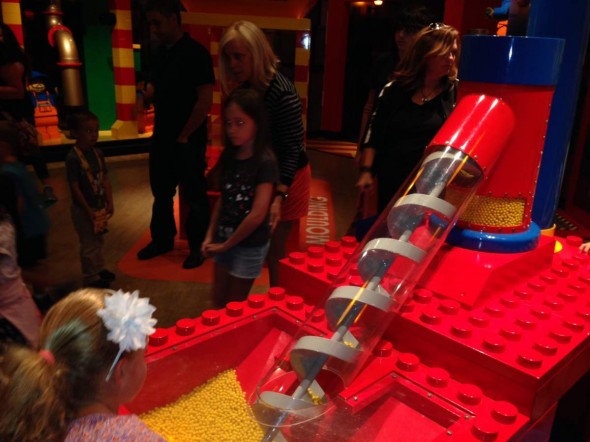 Dann geht es weiter zum ersten Ride "Kingdom Quest" wo man mit Lasern verschiedene Prinzesssinnen vor bösen Rittern, Drachen und mehr retten muss.
In der großen Halle gibt es neben einer großen Soft Play  Area einen  weiteren Ride, ein Duplo Village für die Kleinen, einen Ride und eine Station wo man Rennautos bauen und fahren lassen kann.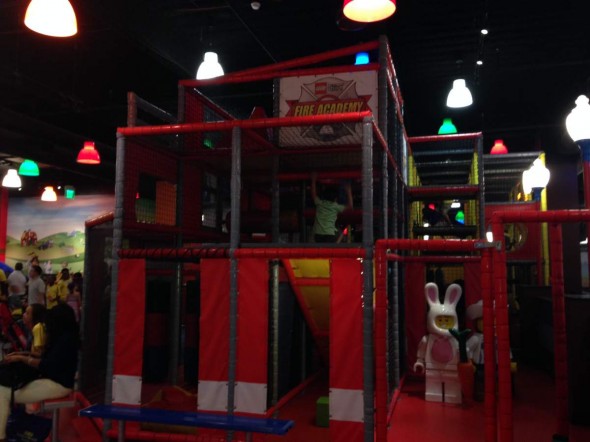 Eine tolle Legolandschaft die New York und Umgebung darstellt darf natürlich auch nicht fehlen.
Eine der Hauptattraktionen ist das 4-D Kino in dem abwechselnd vier verschiedene kurze Legofilme gezeigt werden. Was ist 4-D? Wind, Schnee und Drachenniessen bekommt man live mit ab…
Gut fuer welches Alter?
2-8 Jahre
Wieviel Zeit sollte man einrechnen?
Man kann alles in ca. 2-3 Stunden machen, wenn man sich Zeit lässt, aber auch jederzeit länger bleiben.
Hier ist der Link zu den einzelnen Attraktionen.
Was kosten die Tickets?
$18 pro Kind
$22 pro Erwachsener
Kinder unter 2 Jahren sind frei und wenn man die Tickets on-line bestellt kosten sie $16.50/$18.
Es gibt am Eingang auch die Möglichkeit einen "Activity Pass" für $4 extra zu kaufen, aber ausser ein paar Stempeln war das zumindest für meine 5-jährige nicht wirklich interessant.
Wie kommt man hin?
Mit dem Auto sind es ca 30-40 Minuten von Manhattan (je nach dem woher man kommt).
Mit den öffentlichen Verkehrsmitteln geht es aber auch:
Von Grand Central Station die Metro North Hudson Line bis Yonkers nehmen und dann den #78 Bus von Getty Square bis zum Ridge Hill Stop
Was kann man da sonst noch machen?
Legoland Discovery Center ist Teil der Westchester's Ridge Hill Mall, einem sehr schönen mittelgrossen Outdoor Shopping Center mit Läden wie H&M, UNIQLO, Lord & Taylor, Express, Apple und anderen. Man findet dort auch einige Restaurants wie Cheesecake Factory (one of my suburban favorites!), sowie einem Griechen, Kubaner, Asiaten und andere.
Leave us a comment!