Follow our CityErleben blog to get periodic updates on the best activities with or without your kids like museums, playgrounds, festivals, free programs, day trips and weekend excursions. Get the best out of NYC tested by fellow CityKinder Moms & Dads and our contributors.
Christmas Tree Lightin – The Magical Start Into Christmas Season!
November 27th 2019, 3pm
comments: 0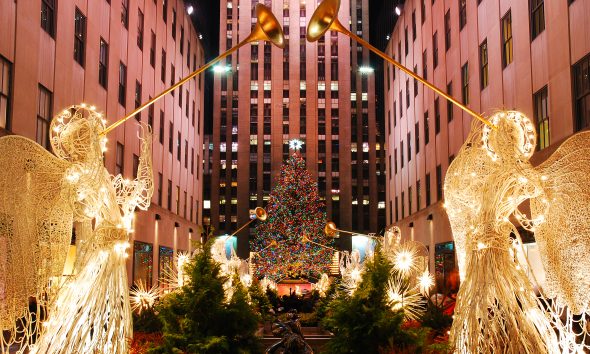 The days are getting shorter, nature is preparing for hibernation and the city is slowly but surely spreading a bit of magic. Every street and shop window begins to sparkle and glitter – Christmas is just around the corner. Shortly after Thanksgiving New York hosts many Christmas tree lighting celebrations. Here are some "Must See Events" you might want to keep in mind.
"Winter's Eve at Lincoln Square", Manhattan | Monday, December 2nd, 5:30-9:00 PM
New York's largest Christmas festival provides fun for the whole family! Try culinary delights and enjoy the free entertainment program – there's plenty of attractions for the little ones too. The highlight of the evening is the illumination of the tree in Dante Park from 5:30-6:00 PM
CityKinder Tip: Go early – this event tends to get crowded.
"Rockefeller Center Tree Lighting Ceremony", Manhattan | Wednesday, December 4th, 8:00-10:00 PM
New York's most famous Christmas tree gets lighted with an annual big show and live performances by major stars like John Legend and Gwen Stefani. The ceremony is free and open to the public, but on a first-come, first-served basis. Besides the live broadcast on NBC, the best place to attend the spectacle is in the Channel Gardens (between West 49th and 50th Street on 5th Ave) or on Rockefeller Plaza itself.
CityKinder Tip: As this event gets quite crowded, it's best to watch the show with your little ones in front of the TV.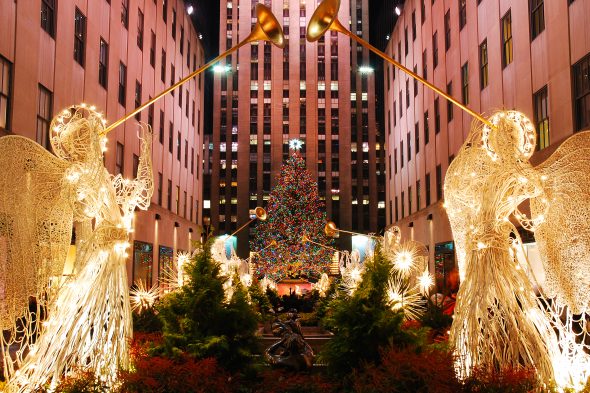 "Tree Lighting Sing-along" at Bryant Park, Manhattan | Thursday, December 5th, 6:00 – 6:45 PM
The annual tree lighting in Bryant Park is a real spectacle! Next to fireworks display, world-class skaters run to the performances of the Harlem Youth Choir "Dream" – of course Santa should not be missing. After the official ceremony, all visitors are welcome to skate the ice rink – there will be live music.
CityKinder Tip: The only ice rink with free admission in NY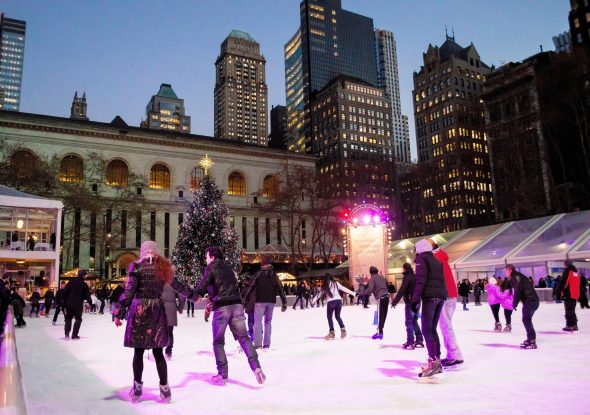 "23rd Annual Central Park Holiday Lighting" Manhattan | Thursday, December 5th 5:30-6:30 PM
The Christmas tree illumination in Central Park at Charles A. Dana Discovery Center (110th Street between Lenox Ave and 5th Avenue) is an annual celebration for the whole family. Enjoy hot chocolate, cookies and meet Santa and his friends. Sing along Christmas carols, and watch the enlightened flotilla of trees on the Harlem Meer.
"Grand Illumination" Conference House Park, Staten Island | Friday, December 6th, 7:00-8:00 PM
Staten Island also welcomes the Christmas season with a light ceremony. The historic building in the Conference House Park will be illuminated from inside. Sing Christmas carols and enjoy free hot cider and cookies.
CityKinder Tip: Please dress warmly as the festivities take place outside!
7th Annual "Holiday Festival & Tree Lighting Celebration", Queens | Sunday, December 8th 4:00-5:30 PM
A "Must See" event, not only for families from Queens! Besides taking photos with Santa and the actual illumination of the tree, there will be offered hot chocolate, Pretzels and many other attractions especially for children.
"Christmas in the Garden", Queens Botanical Garden | Sunday, December 8th, 12:00- 5:00 PM
Christmas fun for the whole family! Experience Queens Botanical Garden in a festive robe. In addition of the tree lighting, you can listen to live music, eat, drink and get some bargains from the blowout sale of the QBG shop. For your little ones there will be offered holiday crafts, photos with Santa and face painting.
CityKinder Tip: Be prepared for a 10$ parking fee.
More Lighting Events can be found here.
Leave us a comment!