Follow our CityErleben blog to get periodic updates on the best activities with or without your kids like museums, playgrounds, festivals, free programs, day trips and weekend excursions. Get the best out of NYC tested by fellow CityKinder Moms & Dads and our contributors.
"New York Für Dich" – Mit der Fähre zum Rockaway Beach
August 23rd 2019, 3pm
comments: 0
Der Weg ist diesmal Teil des Zieles. Eine fantastische Fährfahrt zum Rockaway Beach auf der Rockaway Halbinsel in Queens.
In diesem Blog wollen wir euch nicht nur einen tollen Ort zeigen, sondern gleich mit auf die Reise nehmen zu unserem Tagesausflug. Es geht los im Süden von Manhattan. Wir müssen zum Pier 11 an der Wall Street. Sonntags kann man in der Gegend gut kostenlos parken. Die Fähren fahren regelmäßig und an Wochenenden halbstündlich. Wir hatten ungeplant ein gutes Timing und können nach kurzer Warteschlange gleich aufs Oberdeck der Fähre. Das einfache Ticket kostet $2.75.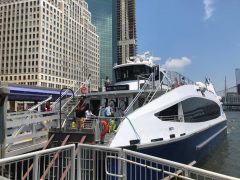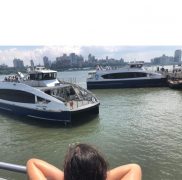 Wow. Was für eine Fahrt. Die Fähre startet am Pier 11 und düst an der Freiheitsstatue, Ellis Island und Governors Island vorbei und unterquert die Verrazzano Bridge (die Staten Island und Brooklyn miteinander verbindet). Unterwegs wird noch mal angehalten. In Brooklyn am Brooklyn Army Terminal. Hier werden noch weitere Badelustige, die mit bunten Badetaschen bewaffnet sind, eingesammelt. Und wieder weiter. Interessant ist auch, dass wir an Stränden vorbeifahren, von deren Existenz wir bis dato gar nichts wussten. Yeah, da ist ja Coney Island. Bisher nur über die Landseite genähert, wirkt Coney Island mit seinem Boardwalk und Karussells vom Wasser aus plötzlich so klein.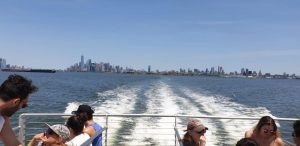 Nach 45 Minuten sind wir da. Direkt angekommen, ziehen wir gleich unser Rückticket (es gibt keine Hin-und Rückfahrt zu kaufen). Am Ausgang steht ein Shuttle, der euch zum Strand bringt. Zu Fuß sind es knapp 10 Minuten, das wird gelaufen.
Wir sind da. Der Rockaway Beach ist meilenlang und offensichtlich sehr beliebt. Der erste Strandgang zeigt: Man kann hier surfen!! Ideale Surferwellen vermitteln einem kurzfristig kalifornisches Flair.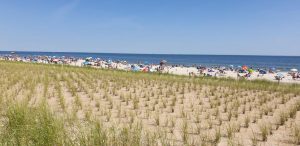 Für den Hunger gibt es direkt am Strand die normalen Konzessionsstände. Und wer noch laufen kann: Ein paar Blöcke weiter gibt es prima Alternativen. Auf der Höhe Beach 102nd St laufen wir den Rockaway Beach Boulevard rein und werden nicht enttäuscht. Hier reiht sich alles was kulinarisch das Herz begehrt, aneinander: Pizza, asiatische Nudelsuppen, Backwaren und Kaffee, italienische Nudeln, jamaikanisches Jerk Chicken, Eis und noch vieles mehr.
Diesen und noch viele andere Tipps bekommt ihr in der App "New York für Dich", die App für den zweiten Blick, kostenlos im App Store zum downloaden.
Leave us a comment!