Follow our CityErleben blog to get periodic updates on the best activities with or without your kids like museums, playgrounds, festivals, free programs, day trips and weekend excursions. Get the best out of NYC tested by fellow CityKinder Moms & Dads and our contributors.
One World Observatory – Was für ein Ausblick!
Als Einwanderin und Ex-Touri habe ich schon viele Sehenswürdigkeiten in New York besucht. Nun ist seit einiger Zeit auch der Freedom Tower für Besucher zugänglich.
Mit meiner Familie habe ich mich auf den Weg zum One World Trade Center gemacht. Im Schlepptau, mein Partner, meine 11 Monate alte Tochter und meine 9 jährige Stieftochter.
Note: Es wird empfohlen die Tickets online zu kaufen, was ja grunstätzlich nicht verkehrt ist. Allerdings muss man sich in einen 15 Minuten Time Slot eintragen. Wenn man diesen nicht einhalten kann so kommt man in eine Warteschlange. Mit zwei Kindern war mir das zu riskant und so kaufte ich die Tickets auf meinem Handy als wir schon fast am Freedom Tower angekommen waren.
$32 für Erwachsene
$26 für Kinder im Alter von 6-12 Jahren
Kostenlos bis zum 5. Lebensjahr
Schon eine happige Summe, aber nicht ungewöhnlich für Seehenswürdigkeiten in New York.
Wir haben circa 10 Minuten in der Schlange vor der Tür gewartet. Nach Einlass kam dann die zweite Schlange, in der es dann aber Videos und Informationen auf dem Weg zum Farhstuhl gab. Im Fahrstuhl angekommen wurden wir von einer sehr schönen Video-Timeline überrascht, die uns zeigte, wie sich die Skyline von New York über die letzten 150 Jahre so entwickelt hat. Sehr interessant!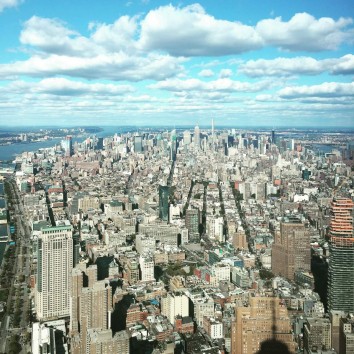 Oben angekommen wurden die Erwartungen dann endlich erfüllt. Man wurde in einen leicht belichteten Raum geführt und wurde von einem netten Team begrüsst. Nach einigen Minuten gingen dann auf einmal die dunklen Vorhänge auf und vor einmal lag die Skyline mit ihrer ganzen Pracht. Nun wurde man in einen grossen Raum geführt und konnte sich dort frei bewegen. Der Ausblick ist definitiv unglaublich toll. Leider lag der Gift Shop nicht ausserhalb, sondern nahm einen grossen Teil mitten im Raum ein. Ich hatte uns ein paar Butterbrote eingepackt, da ich aus Erfahrung weiss, dass die Essenspreise sehr hoch sein können. Trotz alle dem wollte meine Tochter gerne einen Muffin haben und musste von ihrem Taschengeld $5 abdrücken.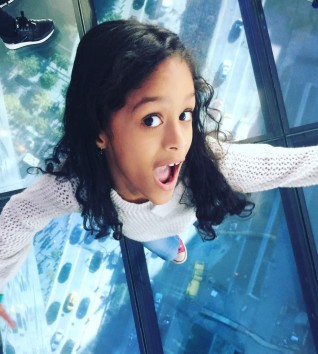 Im grossen und ganzen ein schöner Ausflug, aber ich persoenlich bevorzuge das Empire Statue Building, da man dort die frische Luft geniessen kann und nicht Indoors bleiben muss.
Für mehr Informationen hier die Webseite mit Anfahrt und Preisen.
Autorin: Jamila Hooker
Leave us a comment!