Follow our CityErleben blog to get periodic updates on the best activities with or without your kids like museums, playgrounds, festivals, free programs, day trips and weekend excursions. Get the best out of NYC tested by fellow CityKinder Moms & Dads and our contributors.
Die besten Weihnachtsmärkte in New York und Umgebung
November 20th 2018, 11am
comments: 1
New York hat inzwischen mehrere große und kleine Weihnachtsmärkte – wir haben hier eine Übersicht für euch zusammengestellt: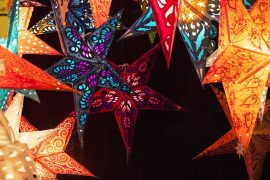 Auf den beiden Märkten am Union Square und am Columbus Circle sind Buden von "German Delights" vertreten, die jedes Jahr von einem jungen Paar organisiert werden, das extra dafür aus Europa nur für die Wintermonate anreist.
Unter anderem sind auch die Käsekrainer an ihrem Bratwurststand am Columbus Circle sehr zu empfehlen! Dort dürfen sie dieses Jahr zum ersten Mal auch echten Glühwein und deutsches Bier anbieten!
Außerdem gibt es einige kleine Bazare, Kunsthandwerkermärkte und ähnliches:
Es gibt auch einige sehr schöne Märkte in New Jersey und Pennsylvania, die einen Tagesausflug wert sind:
PS: Ein paar der Infos haben wir zugegebenermaßen von der deutschen, in New York lebenden, Autorin Petrina Engelke "geklaut", von der wir auch ein CityPortrait veröffentlicht haben. Sie hat vor kurzem auf ihrem Blog Moment: New York einen Artikel über Weihnachtsmärkte in der Stadt veröffentlicht.
Merken
Merken
Merken
Merken
Merken
Merken
Merken
Merken
Merken
Merken
Merken
Merken
Merken
Merken
Merken
Merken
Merken
Merken
Merken
Merken
Merken
Leave us a comment!