Follow our CityErleben blog to get periodic updates on the best activities with or without your kids like museums, playgrounds, festivals, free programs, day trips and weekend excursions. Get the best out of NYC tested by fellow CityKinder Moms & Dads and our contributors.
Swedish Cottage Marionette Theatre
October 26th 2012, 8pm
comments: 1
Nach einem Spaziergang durch den Central Park landeten wir schließlich beim märchenhaften Swedish Cottage. Ich fand dieses Häuschen ja schon immer ein bisschen geheimnisvoll, doch bisher hatte ich mir nie die Mühe gemacht nachzusehen, was da eigentlich geboten wird. Meine beiden Töchter waren ganz aufgeregt und voller Neugier, was denn jetzt gleich passieren würde. Voller Erwartung setzten wir uns auf die kleinen Bänke.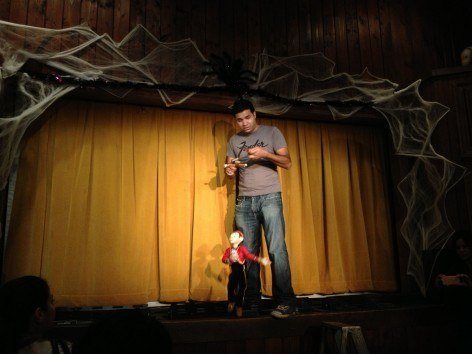 Das Marionettentheater ist recht klein und man hat von jedem Platz eine gute Sicht auf die Bühne. So fühlten sich die Kinder auch mitten drin im Geschehen. Einige der kleineren Kinder waren sogar so beeindruckt, dass sie zu Weinen anfingen. Das Stück selbst war sehr nett gemacht, mit vielen verschiedenen, wundervoll ausgearbeiteten Marionetten, einigen lustigen Liedern und immer wieder wurde durch das Bühnenbild ein Bezug zu New York hergestellt. Mit der uns vertrauten Geschichte von Hänsel und Gretel hatte es allerdings nichts zu tun und so musste ich meinen Kindern erst einmal ausführlich erklären, warum denn die Hexe in dem Stück nicht böse war, sondern die Kinder sehr freundlich behandelte!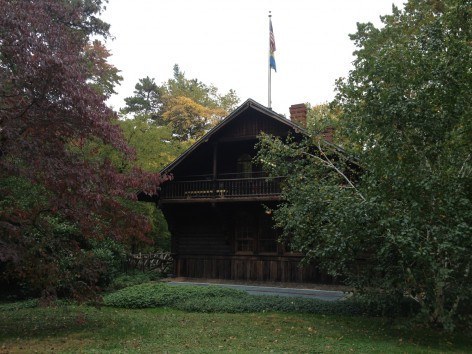 Nach einer Stunde ging das Stück zu Ende und einer der Puppenspieler erklärte und demonstrierte zum Abschluss wie das alles mit den Marionetten funktioniert und wie sie zum "Leben erwachen". Meine beiden Mädchen waren sehr beeindruckt von dem Theater und sie meinten sofort, dass wir noch einmal ein Stück ansehen sollten. Ich selbst fand das niedliche Theater auch sehr schön und äußerst liebevoll und märchenhaft gestaltet.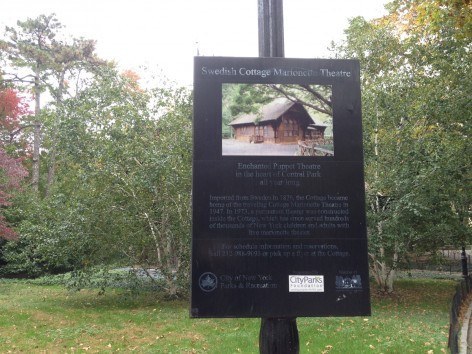 Das Programm wechselt alle paar Monate. Es ist definitiv eine der günstigsten Theaterangebote für Kinder in Manhattan.
Informationen:
Kartenpreise: Kinder 7 Dollar (bis 12 Jahre) und Erwachsene 10 Dollar
Link: http://www.cityparksfoundation.org/arts/swedish-cottage-marionette-theatre/
Wegbeschreibung: Mit der Metro B oder C bis 81. Straße fahren und dann den Rest laufen – siehe Karte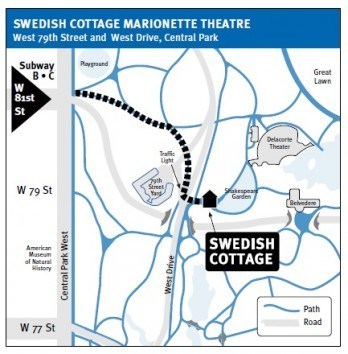 Autor: Beatrice Groß – sie als Gastbloggerin vorzustellen ist uns weiterhin eine große Ehre, nachdem sie schon so tolle Beiträge geschrieben hat über das Guggenheim Museum mit Kindern, über den Brooklyn Bridge Park und über Cape Cod.
Leave us a comment!