Follow our CityErleben blog to get periodic updates on the best activities with or without your kids like museums, playgrounds, festivals, free programs, day trips and weekend excursions. Get the best out of NYC tested by fellow CityKinder Moms & Dads and our contributors.
The Cloisters: ein schöner Ausflug ins Mittelalter
August 23rd 2016, 1am
comments: 0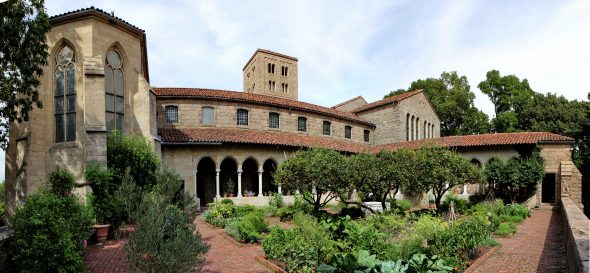 Ein toller Ausflug für alle, die mal wieder Sehnsucht nach Europa haben. Wir haben uns zumindest gefühlt wie im Urlaub in Südeuropa :-).
Ganz im Norden von Manhattan liegt "The Cloisters". The Cloisters (auf deutsch die Kreuzgänge) ist eine Zweigstelle des Metropolitan Museum of Art und ist ein Sammelsurium mittelalterlicher Kunstwerke und Architekturfragmenten meist französischer Klöster. Auch wer nicht an dieser Art Kunst interessiert ist, kann den Ort als eine Oase der Ruhe in Mitten der Stadt geniessen.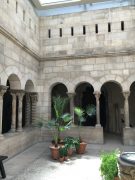 Das Museum liegt ganz wunderbar im Fort Tryon Park auf einem Hügel oberhalb des Hudson Rivers. Schon beim Betreten des Museums erlebt man eine angenehme Stille, die man von Besuchen in Kirchen oder Klöstern kennt. Das Museum ist auf zwei Ebenen angelegt – auf jeder Ebene gibt es u.a. Kreuzgänge, Fenster, Portale, Brunnen, Glasmalereien, Gemälde, Schnitzereien. Eine super angenehme Atmosphäre und ein toller Ausflug ins Mittelalter haben den Besuch zu einem schönen Erlebnis gemacht.
Wegbeschreibung: Mit dem A-Train bis zur Haltestelle "190 St". Von dort ist der Weg ausgeschildert und man läuft ca. 10 Minuten durch den schönen Fort Tryon Park.
Bei der Anreise mit dem Auto ist zu beachten, dass die Ausfahrt vom Henry Hudson Parkway Richtung "Fort Tryon Park – The Cloisters" nur in nördlicher Fahrtrichtung genommen werden kann!
Es stehen einige kostenlose Parkplätze im Fort Tryon Park zur Verfügung.
Tipps: Es gilt "suggested admission", das heißt, bei Tickets die direkt an der Kasse gekauft werden, können die Besucher selbst entscheiden, wie viel ihnen der Besuch wert ist. Tickets die schon vorab online gekauft werden haben einen Festpreis. Kinder unter 12 haben freien Eintritt. Alle Tickets enthalten zusätzlich den Eintritt ins Met 5th Avenue und Met Breuer, wenn der Besuch dort am selben Tag erfolgt.
Im Untergeschoss gibt es in einem der Kreuzgänge ein sehr schönes Kaffee. Es lohnt sich dort eine Pause zu machen.
Im Fort Tyron Park gibt es abgesehen von vielen Spazierwegen auch zwei Spielplätze zu erkunden, falls die Kids nach dem Besuch in The Cloisters noch etwas toben wollen (Anne Loftus und Payson playgrounds).
Autor: Gabi Geiselmann
Merken
Merken
Merken
Merken
Merken
Leave us a comment!