Follow our CityErleben blog to get periodic updates on the best activities with or without your kids like museums, playgrounds, festivals, free programs, day trips and weekend excursions. Get the best out of NYC tested by fellow CityKinder Moms & Dads and our contributors.
Unsere Community ist online – Tipps für Kinder in der deutschen Sprache
March 20th 2020, 4pm
comments: 0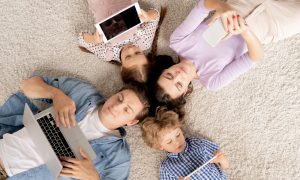 Die Schulen sind zu…Die ganze Familie ist zu Hause! Mütter und Väter machen einen Crashkurs zum Lehrer Dasein und versuchen ihre Kinder sinnvoll zu unterhalten. Das ist auch eine super Möglichkeit das Deutsch Eurer Kinder zu verbessern und dabei einigen Businesses und Services zu helfen, durch die Krise zu kommen und auch hinterher noch für unsere Community da zu sein.
Lasst uns gemeinsam unsere Lieblingsservices unterstützen, damit wir sie nicht an den Virus verlieren! Und wir versprechen – sie werden die Kinder für ein paar Minuten am Tag sinnvoll beschäftigen!
Galli Theater New York – Prinzession auf der Erbse (Hörbuch) 
Die berühmten und wunderschönen Märchen gibt es jetzt auch von den Galli Schauspielern gesprochen, auf youtube! Natürlich auf Deutsch ;). Kostenlos. Spenden sind erwünscht!
Kinderbooks – deutsche online Story Time
Ihr könnte von Kinderbooks weiterhin eure deutschen Büchern nach Hause bestellen aber als zusätzlichen Service bieten sie nun auch online Story Time an. Guckt regelmäßig auf ihre FB Seite, um den nächsten Livestream nicht zu verpassen. UPDATE (3/22/20): Der Versand ist leider eingestellt worden. Live Story Time findet weiterhin statt.
You TV – online Recorder für deutsche Fernsehsendungen
Das deutsche Fernsehprogramm ist spontan auf die neue Situation eingegangen, und wird zum Beispiel nun jeden Tag eine "Sendung mit der Maus" gezeigt. Über YOUTV lassen sich Fernsehsendungen einfach aufnehmen und können zu eurer "Screen Time" dann gezeigt werden. Im neuen "Homeschooling Duden während Quarantäne" heißt dies nun "Deutschunterricht" ;)
Deutschunterricht via "Deutsche Fernschule" oder Lokale Lehrer
Nutzt die Zeit und verbessert das Deutsch eurer Kinder. Es gibt einige Angebote, wie das Programm der Deutschen Fernschule, als auch lokale Lehrer und Tutoren. Meldet euch gerne bei Sarah Tüllmann – sie bietet jetzt auch interaktiven Deutschunterricht in Gruppen sowie Privatunterricht via Zoom an.
Rella's Spielhaus ist natürlich auch geschlossen, bietet jedoch privaten online Deutschunterricht für die gesamte Familie an.
Freitag 03/20- Donnerstag 04/09/20, Mo&Fr 9AM-1PM, Di&Fr 6-7PM
CityKinder Classes/Webinars & Online Gruppen
Wir bei CityKinder sind natürlich auch von COVID-19 betroffen und müssen leider einige Events absagen (z.B unser alljährliches Ostereiersuchen) aber wir bieten Kurse auf Zoom an, wie unsere Babys Erstes Jahr Gruppe und unser Virtual Newcomer Breakfast. Weiterhin haben wir unser Angebot um einige Webinare erweitert.
Coming soon! Online Kurs zum Schulsystem von New York. Es ist nie zu früh sich über die Optionen in NYC Gedanken zu machen. Wir haben Dir alles was du wissen musst in 4 übersichtlichen Modulen zusammengestellt. Einfach hier klicken, wenn Du informiert werden möchtest, wenn es los geht!
Leave us a comment!