Got a question or need some "how-to" advice to make life in NYC smooth sailing? Review our expert blog featuring topics ranging from parenting advice, product reviews the NY school system, important laws, taxes, moving tips, and more.
Nikolaus – Tradition und Geschenkideen
December 5th 2018, 3pm
comments: 0
Am Abend des 5. Dezember ist es wieder soweit. Die Kinder werden fleißig die Schuhe schrubben, vor die Tür stellen und dann ungeduldig ins Bett gehen um am nächsten Morgen voller neugierde Süßigkeiten, Nüsse, Orangen und vielleicht sogar ein kleines Geschenk im Schuh zu finden.
Aber woher kommt dieses Tradition?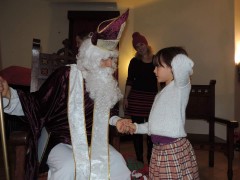 Es gibt einige Sagen und Erklärungen, woher diese Tradition stammen könnte.
In einer Sage über den Bischof Nikolaus, der im 4. Jahrhundert n. Chr. in der Stadt Myrta in der heutigen Türkei gelebt hat, gab es einen sehr armen und gottesfürchtigen Mann, der die Aussteuer für seine drei Töchter nicht bezahlen konnte und diese daher auf die Straße schickte, um "Liebesarbeiten" zu betreiben. Als der Bischof Nikolaus von diesem Schicksal gehört hat, warf er drei Klumpen Gold durch den Kamin der Familie. Die Familie hatte gerade ihre Socken zum trocknen am Kamin aufgehangen und so fiel das Geld direkt dort hinein.
Diese Geschichte gibt den Ursprung, warum wir auch heute noch möglichst große Schuhe vor die Tür stellen.
Im 14. Jahrhundert gab es das "Bischofsspiel" in Klosterschulen – ein Schüler durfte einen Tag lang als Bischof walten und gucken ob alle Kinder artig sind.Nikolaus wird als der Schutzpatron der Kinder und besonders barmherzig und lieb dargestellt. Brave und fleißige Kinder werden vom Nikolaus belohnt und unartige Kinder werden von seinem Gehilfe Knecht Ruprecht getadelt.
In einigen Ländern, wie z.B den Niederlanden, werden die Kinder zu St. Martin mehr beschenkt als zu Weihnachten.
Braucht ihr noch Geschenkideen? Dann guckt doch in unserem Blogartikel über den Adventskalender, dort haben wir einige Ideen für kleinere Geschenke gesammelt.
Auf der Nikolausfeier von CityKinder könnt ihr auch den richtigen Nikolaus treffen und nicht Santa Claus. Viel Spaß!
Leave us a comment!