Curious who else is living in NYC? We are, too! We feature moms and dads from all walks of life with interesting stories, businesses, and family constellations. See who's in town, what they love about NYC, and why they stay.
Deutsche in New York während Corona: Sina Hutereau – Expat Mama
June 3rd 2020, 8am
comments: 0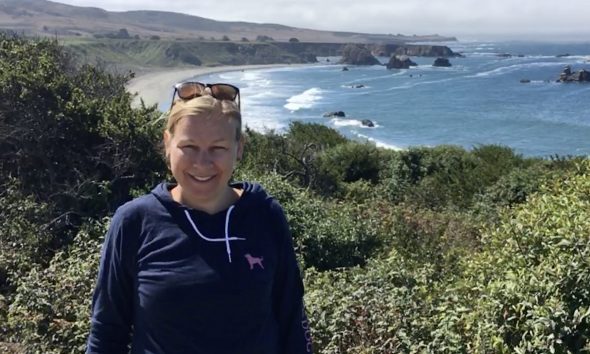 Liebe Sina! Vielen Dank, dass du dir heute ein wenig für uns Zeit genommen hast. Wo befindest du dich denn gerade? 
Ich bin mit meiner Familie in Saratoga Springs seit ein paar Tagen. Normalerweise wohnen wir in Manhattan in der Nähe vom Columbus Circle. Wir sind eine Expat Familie und seit letztem Jahr März in NYC.

Wie haben sich die Folgen von Covid 19 auf dein Leben ausgewirkt? 
Unsere beiden Kinder (6 Jahre und 3 Jahre) gehen seit dem 13.3. nicht mehr zum Kindergarten. Mein Mann arbeitet seit Ende Februar schon im Home-Office. Tägliche Zoom lessons und Hausaufgaben erledigen mit den Kindern gehören jetzt zu meinen Aufgaben. Im Großen und Ganzen klappt es ganz gut, da ich in NYC nicht arbeite und die Zeit dazu habe. Was für uns sehr schwierig ist, ist das "eingeschränkte" rausgehen. Wir gehen normalerweise mit den Kindern jeden Tag raus auf den Spielplatz, machen Fahrradtouren, gehen auch gerne in Restaurants essen oder machen Tagesausflüge. Das ist jetzt gar nicht mehr möglich oder nur begrenzt. Aber wir gehen weiterhin für 1-2h in den Central Park.
Was war die grösste Herausforderung für dich in den letzten Wochen? Und was war die inspirierendste und erhebendste Erfahrung?
Am schwierigsten finde ich dieses übervorsichtige Verhalten, sobald wir unsere Wohnung als "sicheren Hafen" verlassen- Mundschutz, keine Hände ins Gesicht, Abstand halten. Besonders mit den Kindern ist es teilweise anstrengend und dieses Gefühl vom "freien entspannten Bewegen" ist nicht wirklich gegeben. Seitdem wir jetzt raus aus Manhattan sind, ist es viel angenehmer an die frische Luft zugehen. Außerdem haben wir jetzt einen Garten. 😃
Was ich wirklich genieße in dieser doch schwierigen Zeit ist, dass ich mit meinen Kindern viel Zeit verbringen kann! Außerdem fällt das morgendliche Hetzen mit Anziehen, Essen und besonders das Subway fahren weg. Jetzt kann alles entspannt am Morgen beginnen. Zoom lesson geht auch im Schlafanzug.
Wie erlebst du Gemeinschaft und soziale Verbundenheit in diesen Zeiten? Hat "Familie" wieder einen anderen Stellenwert bekommen? 
Eigentlich wollten uns im April meine Eltern besuchen kommen, im Mai noch mein Bruder mit seiner Familie und im Juni Freunde. Das fällt jetzt leider weg! Meine Kinder telefonieren mehrmals die Woche mit Oma und Opa über FaceTime. Meine Tochter hat virtuelle play dates.
Wir als Familie haben uns vier gegenseitig, was schön ist. Ich glaube, wenn jemand ganz allein zuhause sitzt, ist es bestimmt auch nochmal etwas anders.
Welche Ratschläge hast du für Menschen, die zu Hause festsitzen? Kannst du etwas zum Lesen, Hören oder Sehen empfehlen?
Ich denke tägliches (wenn auch nur kurz) rausgehen an der frischen Luft ist trotzdem weiterhin wichtig, natürlich mit den Hygiene- und Abstandsregeln. Das ist gut für das Immunsystem und Gemüt. Unsere Kinder benutzen oft die Maus oder Anton App. Wer Deutsches Fernsehen vermisst kann youtv.de schauen, das ist derzeit umsonst. Ansonsten wird bei uns viel gemalt, gebastelt oder einfach nur gespielt.
Leave us a comment!