Follow our CityErleben blog to get periodic updates on the best activities with or without your kids like museums, playgrounds, festivals, free programs, day trips and weekend excursions. Get the best out of NYC tested by fellow CityKinder Moms & Dads and our contributors.
Ein Besuch im Louis Armstrong House in Queens
June 23rd 2016, 11pm
comments: 0
Sogar nach über 16 Jahren kann man in New York immer wieder etwas Neues entdecken. Eine Freundin hat mir kürzlich vom Louis Armstrong House in Queens erzählt und da mein Vater (ein Louis Armstrong Fan) gerade zu Besuch war, haben wir gleich die Gelegenheit ergriffen uns das mal anzusehen.
Mein Vater hat mir auch direkt das Buch "Pops – A life of Louis Armstrong" empfohlen – eine spannende Biographie, die im Voraus oder auch danach, den Besuch perfekt abschließt.
Das recht "einfache" Haus in Queens war das einzige Haus in dem Louis Armstrong jemals fest gewohnt hat. Er und seine Frau haben sich ganz bewusst eine Wohngegend ausgesucht, in der die Arbeiterklasse von New York zu Hause war, obwohl er sich zu dem Zeitpunkt schon ganz andere Häuser hätte leisten können.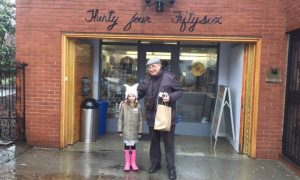 Trotz seines immensen Erfolgs blieben er und seine vierte Ehefrau über 30 Jahre in dem Haus. Da es keine direkten Nachkommen gab, wurde das Haus im Testament als Erinnerungsstätte an die Stadt New York vermacht und wird heutzutage vom Queens College verwaltet.
Das Haus selbst hebt sich von außen kaum von den anderen in der Strasse ab, aber im Inneren sieht man ganz stark den individuellen Geschmack des Paares. Alles ist noch im Originalzustand, angefangen vom gemütlichen Wohnzimmer bis zum komplett verspiegelten Badezimmer. Ein Highlight ist die blaue Küche, die die allerneuesten Erfindungen der 70ger Jahre vorzuweisen hat. (Leider darf man innen keine Fotos machen…).
In jedem Zimmer werden Anekdoten aus Louis' Leben erzählt unterlegt mit kurzen Audiopräsentationen.
Der private Garten neben an lädt zum Verweilen ein.
Man kann das Haus nur mit Führung besuchen. Diese  finden zu jeder vollen Stunde statt und dauern ca. 45 Minuten.
Kosten: Adults $10, Children 7 (4 and under are free)
Öffentliche Verkehrsmittel:   7 Train zur 103 St-Corona Plaza und 2 Blocks laufen.
Info: http://www.louisarmstronghouse.org
Essen in der Gegend: Die Nachbarschaft ist heutezutage sehr Latino-geprägt.Es gibt hervorragendes Essen von Puerto Rican eateries to full Mexican restaurants.
LOUIS ARMSTRONG HOUSE MUSEUM
34-56 107 Street
Corona, Queens, NY 11368
Tel: 718-478-8274
Merken
Merken
Leave us a comment!