Follow our CityErleben blog to get periodic updates on the best activities with or without your kids like museums, playgrounds, festivals, free programs, day trips and weekend excursions. Get the best out of NYC tested by fellow CityKinder Moms & Dads and our contributors.
Liberty Science Center – Jersey City + Science Activities für zu Hause
June 22nd 2014, 8pm
comments: 0
Wenn man der Hitze für einen Tag entkommen möchte oder während der kalte Monate ist ein Tagesausflug ins Liberty Science Museum in Jersey City sehr zu empfehlen.
Das Museum ist für Kinder von ca. 2 Jahren bis 12 Jahren geeignet und verteilt sich auf 4 weitläufige Stockwerke.
Es gibt ständige und wechselnde Ausstellungen, die alle sehr hands on sind. Überall kann man Knöpfe drücken, Dinge bewegen, ankurbeln oder Videoinstallationen bewundern und vieles mehr.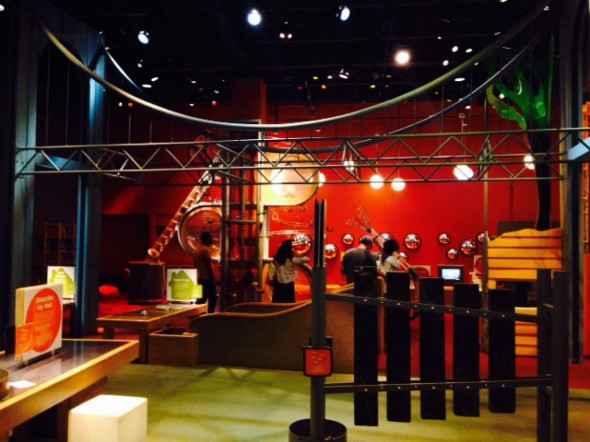 Weiterhin gibt es ein paar Live Shows (bei uns gab es eine Show über Elektrizität mit super Light und Sound Show) sowie einige Vorführungen und Experimente, denen man zusehen kann.
Es gibt auch einen Aussenbereich mit Labyrinth, Kletternetz und anderen Hindernisläufen.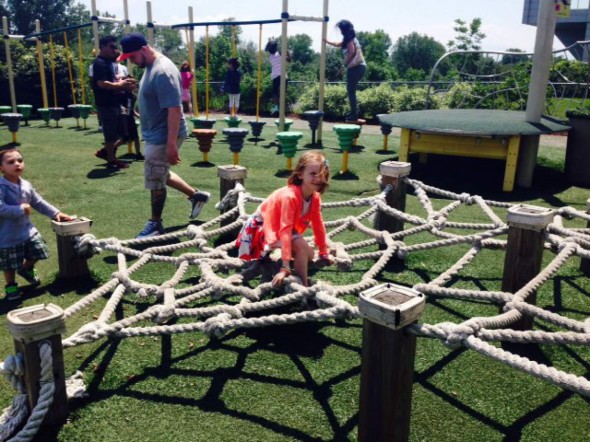 Da mein Mann etwas Platzangst hat, wurde ich mit meiner Tochter in den Touchtunnel geschickt, einem Krabbellabyrinth in dem es stockdunkel ist und man sich mit der rechten Hand am Tunnel entlang voran tasten muss. Da meine Tochter kurz vorher auch streikte bin ich alleine durch den Tunnel gekrabbelt (nachdem wir schon eine Weile anstanden).
Ein Hit mit meiner Tochter war die "Clifford the big red dog" Ausstellung, ideal für die Kleinsten unter uns.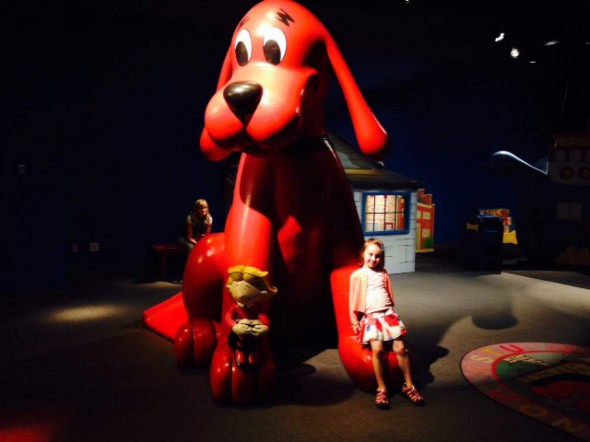 Wie kommt man hin?
Hudson-Bergen Light Rail
From Tonnelle Avenue, West Side Avenue, 8th Street stations and points in between, take the Hudson-Bergen Light Rail to Liberty State Park Station. Walk to the side walk directly under the NJ Turnpike overpass. We're right on the other side! Note: Be sure to validate your ticket before entering the train. | Learn More
PATH Trains
Take the PATH to Pavonia/Newport or Exchange Place stations and transfer to the Hudson-Bergen Light Rail. | Learn More
Liberty Landing Ferry
Provides service from the World Financial Center to Liberty State Park. From the pier, it is a roughly 20-minute walk to Liberty Science Center. Call 201.604.5799 for more information. | Learn More
Note: Please check all ferry routes and schedules in advance as they often change.
AMTRAK
Trains provide service to many stations with rail links to Liberty State Park including Newark Penn Station and New York City's Penn Station. | Learn More
Wieviel kostet es?
Der Eintritt ist $22.75 für Erwachsene und $18.75 für Kinder von 2 bis 12 Jahren.
Man kann noch ein oder 2 IMAX Shows dazu buchen, dann wird es etwas teurer.
Für mehr Informationen und den Ticketverkauf guckt doch mal auf deren Website vorbei.
Tip: Falls Ihr Mitglieder des Intrepid Museum seid, gibt es immer wieder Tage, an denen man kostenlos in das Museum gehen kann. Aber unbedingt vorher nachsehen!
Wenn ihr euer eigenes Science Museum für zu Hause haben wollt, haben wir einige spannende Spiele rausgesucht.
Science Activities für zu Hause 
Leave us a comment!