Got a question or need some "how-to" advice to make life in NYC smooth sailing? Review our expert blog featuring topics ranging from parenting advice, product reviews the NY school system, important laws, taxes, moving tips, and more.
Thinking About Hosting an Au Pair? Here are Some Basic Facts
October 24th 2019, 11pm
comments: 0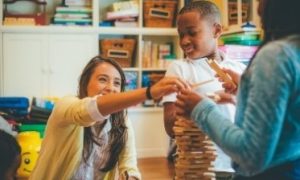 Thinking about hosting an au pair?
Here are a few basic facts for international parents in the U.S.
In-home childcare is much more readily available in the US than in most parts of Europe. Especially for international parents hosting an au pair seems like the ideal childcare solution as au pairs can help assist in teaching an international parent's language or bring a new language into the mix. Many families also love the cultural component of the program. For practical reasons hosting at au pair provides a lot of flexibility in terms of scheduling.
Cultural Care Au Pair is a leading provider of cultural and educational exchange through a quality childcare program. We promote international understanding by bringing young people of the world together with American families and children.
What are the basic requirements to qualify for hosting an au pair?
· Both parents need to be US citizens or green card holders. Visa holders are not eligible to host in the US.
· You need to provide a separate bedroom for the for the au pair in your own home.
· Payment of program fees and weekly stipend
· Adhere to program rules like work hours, assigned tasks, privacy and more.
What are the costs involved?
Between the program fee and the weekly stipend the costs are below $20,000 per year depending on the agency.
Of course, there are incidentals like additional food, a phone if you so choose, travel costs if you would like to take you up here on trips with you and so on.
What will you get?
· Very flexible childcare based on your families' needs
· Cultural exchange and exposure to the world for your children
· Hopefully a new family friend with bonds beyond her or his stay with your family
Would you like to find out more?
Contact Gabi Hegan for a free consultation at gabi.hegan@lcc.culturalcare.com or pre-register via www.culturalcare.com/gabihegan
New Families: register for free!
Register using promotional code PCREGWAIVER to receive a registration fee waiver when welcoming an au pair by October 2, 2020 to save $75!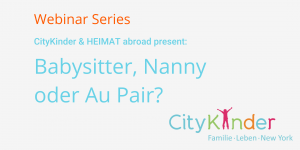 And, if you are in the market for childcare, no matter if full time or just a few hours or days per week, make sure to join our "Nanny, Babysitter or AuPair?"  Webinar to get the full scoop on what's available in and around New York City!
This seminar is specifically helpful for international and new parents who want to learn about the different childcare options.
Leave us a comment!