Curious who else is living in NYC? We are, too! We feature moms and dads from all walks of life with interesting stories, businesses, and family constellations. See who's in town, what they love about NYC, and why they stay.
Dagmar Bleasdale | Blogger Mom and Social Media Consultant
February 23rd 2015, 8am
comments: 1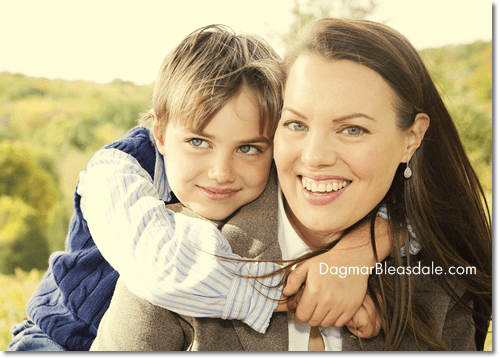 Name: Dagmar Bleasdale
In New York seit: 2007
Anzahl der Kinder? Ein Sohn, geboren Oktober 2006
Ich wohne in: Katonah, NY (Westchester)
Beruf(ung): Professioneller Blogger, Social Media Fachberaterin, Redakteurin, Antiquitäten-Sammlerin
Mein Business: Dagmar's Home und Dagmar's Home Decor
Website:
http://www.dagmarbleasdale.com and —http://www.dagmarbleasdale.com/shop
Was hat Dich nach New York gebracht?
Mein Eheman ist in Westchester aufgewachsen und seine grosse Familie lebt noch immer hier. Als unser Sohn sechs Monate alt war, sind wir von Los Angeles nach Katonah gezogen.
Wenn es Dein Beruf war, übst Du ihn noch aus? Wenn nicht, was machst Du jetzt?
Ich hatte zuerst meinen eigenen freiberuflichen Redaktions – und Lektoratsservice und habe dann im Jahr 2009 meinen Blog gestartet. Da ich auf Twitter sehr erfolgreich bin (29,000 Follower) und Pinterest (34,000 Follower) arbeite ich auch als Social Media Fachberaterin und Redakteuerin. Seit 2013 gibt es ausserdem Dagmar's Home Decor, und ich verkaufe meine Kerzen in antiken Teetassen und anderes antikes Dekor auf Etsy und im Newburgh Vintage Emporium.
Hast Du eine ausgewogene Work-Life Balance? Tips für andere Eltern?
Ich kann von zu Hause arbeiten, aber das hat auch Nachteile: meine Arbeit ist immer hier und es gibt immer was zu tun. Aber ich mag die Flexibilität und ich liebe meinen Job. Hier ist ein Artikel, den ich darüber geschrieben habe: 4 Tips For a Better Work-Life Balance in 2014 
Was liebst Du an New York besonders?
Westchester ist einfach wunderschön. Wir wohnen in einem kleinen Haus, dem Blue Cottage, und sind nur 10 Minuten von unseren Verwandten entfernt. Besonders der Herbst ist hier atemberaubend toll.  Und das Freizeitangebot für Kinder ist enorm – wir haben einen Bauernhof in der Nähe, gehen oft zur Bücherei, wandern, etc.
Was magst Du nicht so gerne oder was nervt Dich an New York oder dem Lebensstil hier?
New York und Westchester sind so teuer! Und ein Taxi in New York eine ganz besondere Herausforderung!
Gibt es etwas das Du an Deiner Heimat vermisst?
Gutes deutsches Brot und Kuchen. Ganz besonders Mohnkuchen mit Streuseln.
Wie viele Sprachen sprechen Deine Kinder?
English und leider nur ein paar deutsche Worte. Ich habe darüber geschrieben warum es so schwer ist für mich, meinen Sohn zweispraching zu erziehen: Raising a Bilingual Child: Go Ahead, You Try It
Ist es wichtig für Dich, dass sie Deine Sprache und Kultur kennen? Was tust Du für die Sprachentwicklung?
Leider schaffe ich es nicht, meinem Sohn Deutsch beizubringen, weil Englisch seit 20 Jahren meine erste Sprache ist und ich selber jeden Satz übersetzen muss. Aber ich hoffe, dass er, wenn er älter ist, Interesse entwickelt, mehr Deutsch zu lernen.
Wir fliegen einmal im Jahr nach Deutschland, um Familie und Freunde zu besuchen. Und manchmal sieht mein Sohn Filme auf deutsch. Wir haben die Little Pim Videos und deutsche Bücher. Ich liebe die Tradition der Schultüte – und mein Sohn hat zur Einschulung auch eine bekommen!
Was ist Deine liebste Beschäftigung in New York?
In NYC gehen wir gern zum Central Park oder auf die Highline. In Westchester sind wir oft bei Muscoot Farm oder wandern im Turkey Mountain. Cold Spring ist eine niedliche kleine Stadt, in die wir gerne am Wochenende fahren.
Hast Du einen Tip für Neuankömmlinge?  
Ich habe eine ganze Seite voll mit Ideen für Westchester. Ich gehe gern zu Richard Gere's Bedford Post Inn. Katonah is voll mit niedlichen kleinen Geschäften und Restaurants.
Leave us a comment!