Curious who else is living in NYC? We are, too! We feature moms and dads from all walks of life with interesting stories, businesses, and family constellations. See who's in town, what they love about NYC, and why they stay.
Katharina Goetz | Brooklyn Bridge Parents
April 3rd 2014, 1pm
comments: 0
Name: Katharina Goetz
In New York seit: 2008
Hast Du Kinder? 1 Sohn (2011)
Ich wohne in: DUMBO, Brooklyn
Beruf(ung):  Marketing Consultant & Blogger
Mein Business:
Goetz Marketing Consulting: Marketing & PR Strategie fuer Konsumgueter
Brooklyn Bridge Parents: Blog fuer Eltern in Brooklyn
Website (falls vorhanden):
www.goetzmarketingconsulting.com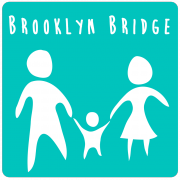 Was hat Dich nach New York gebracht?
Meine Arbeit als Marketing Manager in einem franzoesischen Kosmetikkonzern
Wenn es Dein Beruf war, übst Du ihn noch aus? Wenn nicht, was machst Du jetzt?
Ich habe mich nach der Geburt meines Sohnes selbststaendig gemacht und biete nun Marketing Consulting fuer kleine Firmen hauptsaechlich hier in Brooklyn an. Viele interessante Marken sitzen in Brooklyn, denen helfe ich beim Markenaufbau hier in den Staaten.
Hast Du eine ausgewogene Work-Life Balance? Tips fuer andere Eltern?
Meine Selbstaendigkeit gibt mir viel zeitliche Flexibilitaet. Ich habe es als erstaunlich einfach empfunden, mich in New York selbstaendig zu machen. Es war unbuerokratisch und ich habe viel Unterstuetzung erhalten. Die Amerikaner sind einfach sehr optimistisch und freuen sich ueber unternehmerische Ideen.
Was liebst Du an New York besonders?
Den kulturellen Mix der Menschen, die Restaurants, die staendige Veraenderung und die unzaehligen Moeglichkeiten fuer Entrepreneure.
Was magst Du nicht so gerne oder was nervt Dich an New York oder dem Lebensstil hier?
Die Idee, dass man immer "available" sein muss. Man sollte auch mal "entschleunigen" oder fuer ein paar Wochen in den Urlaub gehen koennen – wird schon nix passieren…
Die grossen qualitativen Unterschiede der Schulen und ueberhaupt das ganze Schulsystem mit seinen privaten und oeffentlichen Moeglichkeiten, die schon sehr frueh unheimlich ungleiche Weichen fuer Kinder stellen.
Gibt es etwas das Du an Deiner Heimat vermisst?
Klar, alles! Freunde & Familie, Essen, "Sonntage", Natur…
Wie viele Sprachen sprechen Deine Kinder?
Noch keine so richtig, aber hoffentlich eines Tages Englisch, Deutsch und Spanisch (mein Partner ist Kolumbianer)
Ist es wichtig für Dich, dass sie Deine Sprache und Kultur kennen? Was tust Du für die Sprachentwicklung?
Ich spreche ausschliesslich Deutsch mit meinem Sohn und auch mit all seinen Freunden….ganz egal wo sie herkommen und welche Sprache sie zu Hause sprechen.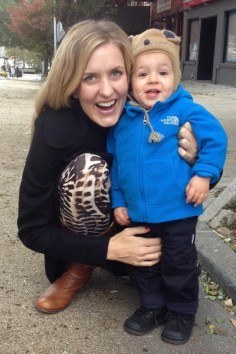 Was ist Deine liebste Beschäftigung in New York?
Essen gehen, auf der Gasse sein
Hast Du einen Tip für Neuankömmling?
DUMBO in Brooklyn ist sicher einen Besuch wert. Trinkt einen Kaffee bei Brooklyn Roasting Company, setzt die Kinder auf Jane's Carousel und esst eine Pizza bei Juliana's oder Grimaldis.
Leave us a comment!