Curious who else is living in NYC? We are, too! We feature moms and dads from all walks of life with interesting stories, businesses, and family constellations. See who's in town, what they love about NYC, and why they stay.
Karsten Staiger | Fotograf
July 24th 2016, 11am
comments: 0
Karsten Staiger wuchs als Kind deutsch / kroatischer Eltern in einem 5000 Seelen Dorf im Schwarzwald auf. So richtig Zuhause fühlte er sich in Deutschland aber nie, und als er 1995 mit 24 Jahren als inzwischen studierter Grafikdesigner zu Besuch nach New York kam, wusste er sofort, dass er die Stadt seines Lebens gefunden hatte. Mit 500 Dollar, zwei Taschen und einer Gitarre kehrte er kurz darauf zurück, und schlug sich zunächst als Maler durch.
1997 lernte er seine in Virginia aufgewachsene Ehefrau kennen; 1998 heirateten die Beiden und zogen in ein Loft in Chelsea. Im gleichen Jahr entdeckte Karsten die Fotografie für sich, deren digitale Epoche gerade begonnen hatte. Gemeinsam baute das Ehepaar mit großem Erfolg eines der ersten digitalen Fotostudios der Stadt auf. Die Geschäfte gingen so gut, dass sie sich zusätzlich ein altes Haus Upstate kaufen konnten, das sie mit viel Leidenschaft renovierten. 2009 kam Tochter Skyler zur Welt – 6 Monate später zerbrach die Beziehung und Karsten zog aus. Die folgenden zwei Jahre wurden die schwierigsten seines Lebens, da seine Frau Skyler zu ihren Eltern nach Virginia geschickt hatte. Einmal im Monat machte sich Karsten per Bus auf die Reise in den Süden, manchmal auch öfter, wenn es ein Schul-Event oder eine Ballet-Vorstellung gab. Am gemeinsamen Sorgerecht und den Folgen der Trennung arbeiten Anwälte noch heute, aber inzwischen ist Skyler längst wieder in New York, und die beiden sehen sich an drei Wochenenden jedes Monats und regelmäßig in der Woche.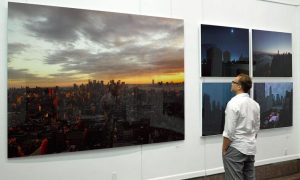 Mehr Informationen zu Karsten und seinen spektakulären Fotos, die er oft von den höchsten Dächern dieser Stadt aufnimmt, gibt es in diesem Youtube Interview  der deutschen Filmemacherin und Tänzerin Marianne Hettinger, das sie 2013 mit ihm in ihrer New Yorker Wohnung führte. Auf Marianne's letzte Frage, auf was Karsten besonders stolz sei, antwortete er ohne zu zögern: Meine Tochter.
Weitere Links zu seiner Arbeit:
Für dieses Porträt gab es zwei Treffen mit Karsten: Eines nur mit ihm, und eines bei dem Skyler dabei war, und – weiter unten – auch einiges zu sagen hatte.
Erst mal möchte ich sagen, dass ich es gut finde, dass Du offen auch über das Thema Trennung mit mir gesprochen hast. Was Du erlebt hast, haben so ähnlich ja ganz viele andere Deutsche in New York auch erlebt – ich, zum Beispiel. Was würdest Du heute anders machen? Anders gefragt: Hast Du einen Ratschlag für Eltern, die durch eine Trennung gehen?
Ich würde mich auf jeden Fall mehr nach der legalen Situation erkundigen. Ich meine nicht unbedingt direkt mit Anwälten arbeiten, denn das kostet ja ein Vermögen und ist die totale Geldmacherei. Aber ich würde mich definitiv mehr sachkundig machen. Ich kannte die Gesetze nicht und habe deshalb große Fehler gemacht und bin total über's Ohr gehauen worden. Auch mehr Kommunikation wäre gut gewesen, aber ich konnte damals einfach nicht. Ich war in einem tiefen Loch und konnte lange nicht klar denken.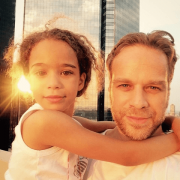 Nach dieser "Heavy Duty" Frage jetzt etwas leichteres, obwohl wirklich leicht ist dieses Thema eigentlich auch nicht. Ist es Dir wichtig, dass Deine Tochter Deutsch spricht? Und wie läuft es?
Ich möchte, dass Skyler Deutsch spricht, aber es ist schwer das durchzuziehen. In den zwei Jahren, in denen wir nur am Telefon und über Facetime gesprochen haben, wollte ich natürlich verstanden werden, und habe deshalb eigentlich nur Englisch gesprochen. Heute spreche ich so viel wie möglich Deutsch mit ihr, es hat nur nicht viel Struktur. Es geht von Deutsch ins Englische und zurück. Außerdem Außerdem geht sie zu einer öffentlichen Schule hier, spricht also da auch nur Englisch. Wir sehen aber manchmal deutsche Sachen auf Youtube.
Wenn Du in Deutschland bist – was fällt Dir auf das dort anders läuft in Sachen Kindererziehung?
Es ist ja totales Helicopter Parenting hier. Bescheuert. In Deutschland ist das viel freier. Mein Bruder z.B. hat drei Kinder, und wir waren im Wellenbad. Seine Kinder waren irgendwo und er war total entspannt dabei, und ich war in diesem stressigen New Yorker Mindset, Skyler jeden Moment lang sehen zu müssen. Und es ist natürlich auch ganz anders, keine Familie hier zu haben, keine Oma, niemanden. Und man hat auch nie Zeit hier.
Was liebst Du an New York besonders?
Karsten: Dass es jedes Mal ein Abenteuer ist aus dem Haus zu gehen. All die verschiedenen Kulturen, und wie sich alles mischt. Die Toleranz. Dass ich alles hier kaufen kann, was ich für meine Arbeit brauche. Auch meine Kollegen, den Freundeskreis den ich habe, it's inspiring.
Skyler: Lots of friendly people. So many fun things to do.
Was sind Eure Lieblingsorte?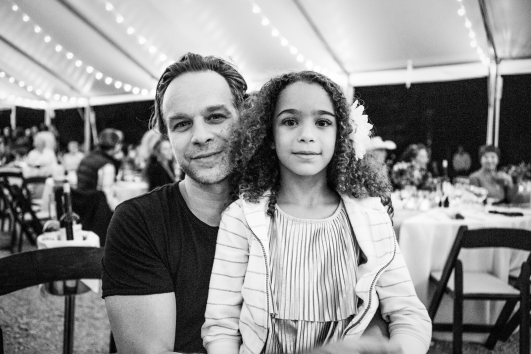 Karsten + Skyler: Central Park. Movie theatres. Pools. Roosevelt Island und die Tram dahin. Museums. Zoo. Chinatown. Brooklyn. Riding bikes. Rooftops.
Was stört dich an New York?
Karsten: Touristen und Government workers.
Skyler: That's a tough question because I love New York. Aber dann fällt ihr doch noch was ein: Garbage. Not enough nature. Too much noise – there is a construction right next to our house and it's really loud and annoying.
An welchem Ort kannst du zur Ruhe kommen?
Karsten: On a roof. Und Zuhause.
Skyler: At home. Upstate. In trains going out of town.
Was gibt es nur in New York?
Alles. In New York gibt es Alles.
Gibt es etwas, das du an Deutschland vermisst?
Die Ruhe am Sonntag – Sonntag ist hier in New York wie Montag. Mehr Zeit für die Familie. Mittagspause. Ich vermisse auch die Reinlichkeit – ich meine nicht Kehrwoche, aber mehr Sauberkeit. Anstand.
Hast Du einen Lieblingstag?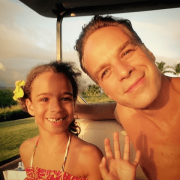 Freitag – denn am Wochenende kommt Skyler.
Mehr Fotos von Karsten und seiner Arbeit sowie Skyler findest Du hier.
Merken
Merken
Merken
Merken
Leave us a comment!