Follow our CityErleben blog to get periodic updates on the best activities with or without your kids like museums, playgrounds, festivals, free programs, day trips and weekend excursions. Get the best out of NYC tested by fellow CityKinder Moms & Dads and our contributors.
New York für Dich: Chinatown in Queens-Flushing
November 29th 2018, 10am
comments: 0
Chinatown in Queens/Flushing ist ein weiteres Beispiel für die unendlich vielen Kulturen in New York, die diese Stadt ausmacht.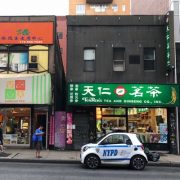 Um in den Asia-American Lifestyle einzutauchen, startet ihr direkt in der Mainstreet. Lasst euch begeistern von Ständen mit frischer Pekingente, Satéspießen und den unzähligen Dim Sums Restaurants mit ihren leckeren gedämpfte und gebratene Teigtaschenspezialitäten. Ein geschäftiges Treiben links und rechts. Nehmt euch Zeit und bummelt durch die Gegend. Für Augenblicke vergisst man völlig, dass man in New York ist und wähnt sich in China. Aber auch das ist New York!
Ein Routenvorschlag: Startet an der Bahnstation und lauft die Main Street nach Süden. Das bunte Treiben setzt sich in den Seitenstraßen fort: Geschäfte mit für westliche Seelen undefinierbaren Gewürzen und Gemüsen, chinesische Friseure, Kitschstände mit der unvermeidbaren Winkekatze und fernöstliche Juweliergeschäfte.
Unser Tipp: Haltet die Augen auf nach Satéständen. Verschiedene Fleisch-und Fischsorten werden hier liebevoll gegrillt und bieten sich bestens als Appetitanreger und Stärkung für zwischendurch an.
Folgt der Main Street bis zum Queens Botanical Garden. Dieser bietet sich als Ruheoase zum Entspannen an (Eintritt $6, Kinder bis 12 Jahren $2). Beliebt ist er auch bei Brautpaaren, die sich im Botanischen Garten trauen lassen. Anschließend lauft ihr auf der anderen Straßenseite wieder zurück zum Ausgangsort.
Spätestens jetzt solltet ihr die asiatische Küche austesten. Unser Lieblingsrestaurant ist das "Little Sheep"(136-59 37th Avenue, Flushing, NY 11354) Ein mongolisches Hot-Pot Restaurant für die ganze Familie. Suppen machen bekanntermaßen glücklich, vor allem diese. Eine Brühe, die 8 Stunden gekocht wurde und in die Mitte des Tisches gestellt wird. Dazu bestellt man, was das Herz begehrt: Fleisch, Fisch, Gemüse. Alles frisch auf den Tisch und los geht das Selberkochen in der Brühe.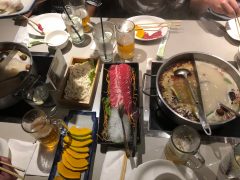 Anreise: Flushing erreicht ihr entweder per Bahn (Endstation Subway Linie 7 "Flushing Main Street Station") oder mit dem Auto (öffentliche Parkgarage in der 135-23 39 Avenue).
Vielen Dank an Isa und Thomas von "New York Für Dich" für diesen tollen Tip.
Diesen und noch viele andere Tipps bekommt ihr in deren App "New York für Dich", die App für den zweiten Blick, kostenlos im App Store zum downloaden.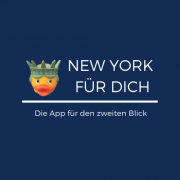 Leave us a comment!