Follow our CityErleben blog to get periodic updates on the best activities with or without your kids like museums, playgrounds, festivals, free programs, day trips and weekend excursions. Get the best out of NYC tested by fellow CityKinder Moms & Dads and our contributors.
New York Für Dich: Ausflug in den Corona Park
January 4th 2019, 12pm
comments: 0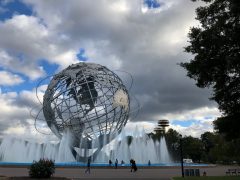 Ein Tipp für Winter und Sommer: Der Corona Park in Flushing / Queens. Hier fand 1964 die Weltausstellung statt. Thema: Die Zukunft. Futuristische Entwürfe, wie die Technik unser Leben prägt und wie die Menschheit den Weltraum erobert wird. Die von der Stahlindustrie gestiftete silberne Weltkugel und der vor sich hin gammelnde New York State Pavillon zeugen weithin von der Ausstellung.
Hier finden am Wochenende unzählige Jugendfußballspiele statt und Großfamilien picknicken gemeinsam auf den weitläufigen Wiesen.
An einer Ecke im Park steht das Queens Museum mit dem größten Stadtmodell New Yorks. In einer riesigen Halle könnt ihr die City erkunden ohne nass zu werden. Das Modell wurde zur Weltausstellung gebaut und inzwischen mehrfach auf den neusten Stand gebracht. Es erlaubt eine ganz neue Orientierung in der Metropole und half den Stadtplanern bei der Entwicklung der City.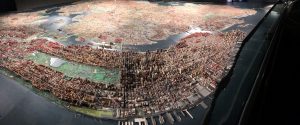 Ein weiterer Raum stellt Exponate von der Weltausstellung 1964 aus und spiegelt den Blick auf die neue Welt wider. Kunst beherrscht die westliche Seite des Museums: Verschiedene Ausstellung wechseln sich ab und geben dem Museum eine besondere Vielfalt.
Auf der anderen Seite des Parks trainieren ganzjährig die Tennisspieler auf der Anlage der US Open. Anfang September spielt die Weltelite hier ihr 3. Major Turnier des Jahres. Gerade auf den Nebenplätzen herrscht eine sehr lebendige Atmosphäre und die Fans feuern ihre Favoriten lautstark an. Es ist das lauteste und bunteste Turnier der Tour und der kulturelle Gegenpol zum Klassiker in Wimbledon.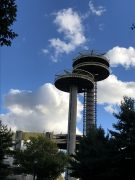 Vielen Dank an Isa und Thomas von "New York Für Dich" für diesen tollen Tip.
Diesen und noch viele andere Tipps bekommt ihr in der App "New York für Dich", die App für den zweiten Blick, kostenlos im App Store zum downloaden sowie aktuelles im New York Blog oder auf Facebook und Instagram.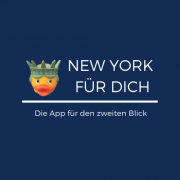 Leave us a comment!