Follow our CityErleben blog to get periodic updates on the best activities with or without your kids like museums, playgrounds, festivals, free programs, day trips and weekend excursions. Get the best out of NYC tested by fellow CityKinder Moms & Dads and our contributors.
Ein Tag in Philadelphia
August 18th 2016, 2pm
comments: 0
Seid ihr noch auf der Suche nach Tipps für Unternehmungen für eins der nächsten Wochenenden? Wie wäre es dann mit einem Tages- oder Wochenendausflug nach Philadelphia?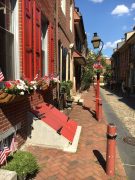 Der Ort mit dem Beinamen "The Birthplace of America" gilt als eine der familienfreundlichsten Städte an der Ostküste der USA.
Wir haben uns davon persönlich überzeugt und waren begeistert vom Angebot für Kinder jeglichen Alters. Da es sehr viel zu sehen und unternehmen gibt und auch die etwas über 2stündige Fahrzeit mit dem Auto von NYC aus gerade so an der Grenze für einen Tagesausflug liegt, würden wir euch eher einen Wochenendaufenthalt empfehlen.
Wir haben uns den historischen Teil der Stadt, die "Old City", angesehen, wo man sehr viele geschichtsträchtige Orte besichtigen kann, wie z.B. die Independence Hall, die Carpenters' Hall, die Liberty Bell und mit Elfreth's Alley auch die am längsten ohne Unterbrechung bewohnte Straße der USA.
Im Independence National Historical Park, in dem sich viele der historischen Stätten befinden, gibt es an vielen Stellen kleine Sitzecken, wo man die Füße ausruhen und gleichzeitig einem der "Geschichtenerzähler" zuhören kann, die beispielsweise über die Tage des amerikanischen Unabhängigkeitskriegs, die Entstehung der ersten US-Flagge und die der Verfassung berichten. Zusätzlich gibt es an vielen Stellen auch noch Darsteller in historischen Gewändern zu bestaunen – sehr spannend für Groß und Klein!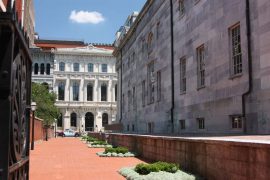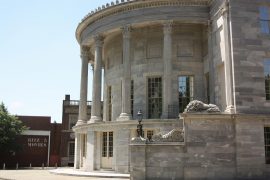 An denjenigen historischen Gebäuden, die auch von innen zu besichtigen sind, gab es bei unserem Besuch meist keine sehr langen Schlangen und wenn man doch anstehen musste, ging es auch recht schnell mit der Einlasskontrolle. Einiges ist sogar kostenlos zugänglich, wie das Liberty Bell Center oder die Carpenters' Hall, die der Tagungsort des ersten Kontinentalen Kongresses war.
Falls ihr die kostenpflichtigen Teile des Independence National Park besuchen wollt, könnt ihr euren National Park Pass dafür nutzen, wenn ihr einen besitzt. Es kann sich auch lohnen, einen zu erwerben, falls ihr plant, in der kommenden Zeit noch mehr Nationalparks oder von National Park Service verwaltete Denkmäler und historische Stätten zu besuchen.
Die wichtigsten Tipss zu allen Angeboten des National Park Service findet ihr auf unserer Partner-Seite HEIMAT abroad.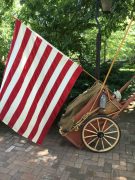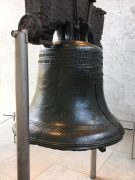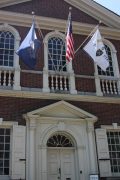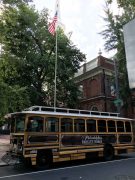 Die "Old City" hat ein sehr schönes Flair, ist trotz der Touristen auch am Wochenende eher ruhiger (vor allem im Vergleich zu Manhattan…) und kann auch mit kleineren Kindern gut besichtigt werden: Es ist alles in Laufreichweite, es gibt viele Bereiche ohne Autos, wo die Kleinen auch mal rennen können und genug Schattenplätze zum Verweilen an heißen Tagen. Allerdings ist ein eher geländegängiger Kinderwagen oder Buggy zu empfehlen, aufgrund des Kopfsteinpflasters, das es an vielen Stellen gibt.
Für alle, die von so viel Geschichte hungrig geworden sind, ist der Reading Terminal Market eine tolle Anlaufstelle – hier gibt es für jeden Geschmack etwas! Wenn man etwas ruhiger sitzen möchte, hat man diverse kleine Restaurants und Cafés zur Auswahl.
Viele weitere Tipps, was ihr mit der ganzen Familie in und um Philadelphia unternehmen könnte – vom Please Touch Museum über das Franklin Institute, das die weltweit größte Ausstellung von Lego-Kunst besitzt, bis hin zum Sesame Place Theme Park findet ihr auf der Website von Visit Philadelphia.
Merken
Merken
Merken
Merken
Merken
Merken
Merken
Merken
Merken
Merken
Merken
Merken
Merken
Merken
Merken
Merken
Merken
Merken
Merken
Merken
Merken
Merken
Merken
Merken
Leave us a comment!