Follow our CityErleben blog to get periodic updates on the best activities with or without your kids like museums, playgrounds, festivals, free programs, day trips and weekend excursions. Get the best out of NYC tested by fellow CityKinder Moms & Dads and our contributors.
Ellis Island – Ort der Hoffnung und der Tränen
June 16th 2016, 4pm
comments: 0
Sehr beeindruckend und interessant war der Ausflug mit meiner Familie und einer Freundin nach Ellis Island.
Wir haben die Liberty Island bewusst ausgelassen, da man mit einem Kleinkind im Kinderwagen sowieso nur um die Statue hätte spazieren können. Ich denke aber, dass ein Zwischenhalt auf der Liberty Island sicher auch ganz nett ist. Dort sieht man die Statue mal von einer anderen Perspektive.
Das Museum auf Ellis Island, welches durch den Wirbelsturm "Sandy" im 2012 stark beschädigt wurde, ist größtenteils wieder hergestellt und sieht sehr eindrücklich aus. Der Höhepunkt des Ausflugs war für mich die Audio Tour im Museum, welche im Ticket inbegriffen ist. Man wird fast ein Jahrhundert zurückversetzt in die Zeit als die ersten Einwanderer via Ellis Island in die USA einreisten. Schritt für Schritt wird dem Besucher erklärt, wo damals die Menschen welche Prozeduren durchlaufen mussten, auf welche Probleme sie stiessen und wie sie schlussendlich die Einreise geschafft haben und entweder nach Manhattan oder nach New Jersey gebracht wurden. Es wurden auch dramatische Szenen gezeigt, wie zum Beispiel über jene Menschen, welche aus diversen Gründen nicht einreisen durften und wieder in ihre Heimat zurückgeschickt wurden.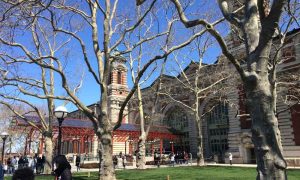 Liberty Island und Ellis Island können entweder von Manhattan (Battery Park) oder von New Jersey (Liberty State Park) aus mit der Flotte der Statue Cruises erreicht werden. Die Tickets kann man online oder in Manhattan direkt im Castle Clinton im Battery Park kaufen.
Für Kinder unter vier ist der Eintritt frei. Bevor man auf das Schiff nach Liberty und Ellis Island einsteigen kann musst man einen "Airport Grade Security Screening" durchlaufen. Wir haben unseren grossen Kinderwagen mit Wintersack inkl. Windeltasche, Babybrei und heisses Wasser mitgenommen. Es hat eine Weile gedauert, bis wir durch waren. Wenn man aber genügend Zeit einplant und etwas Geduld hat, dann ist dies kein Problem.
Merken
Merken
Merken
Merken
Merken
Leave us a comment!